Aside from conjuring up images of King Arthur and his knights, the symbol for infinity or lasting love, there is something about round that has a candid appeal. It's up front, straightforward and has no angles. Round is a pleasing shape, with its smooth lines, simple profile and understated strength. No matter what the style – contemporary, transitional or traditional – round dining tables have a classic appearance that never goes out of style. Because it is ideally suited to smaller-sized living spaces, today we're going to look at dining room interior design featuring the round pedestal table.
Contemporary Style Round Pedestal Table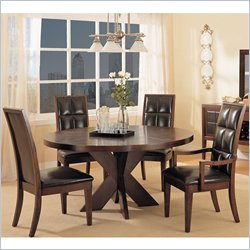 Contemporary style round pedestal tables capture the spirit of a modern lifestyle by emphasizing clean lines, functional yet aesthetically pleasing designs and unique profiles that catch the eye. Visual interest is typically created by pairing the round tabletop with a pedestal base that has a distinctive shape. A contemporary pedestal dining table can also create visual interest by using construction materials such as wood, leather and/or glass in a variety of unusual ways or combinations.
Transitional Style Round Pedestal Table
A transitional style pedestal table is growing in popularity due to its "middle of the road" attitude. By blending elements of traditional and contemporary styles together, the result is a pedestal dining table that has flowing lines and beautiful decorative detail without the "fussiness" of the more formal, historical time periods. Transitional round pedestal tables, while lines and profiles tend to be tempered, possess a sophisticated, inviting allure.
Traditional Style Round Pedestal Table
There is such a wide range to of pedestal dining tables to choose from, including ones that magically transform into an oval shape with the help of a leaf. A traditional round pedestal table that includes one leaf or two leaves allows you to seat more people at the table for special occasions and then return the table to its cosier (round) configuration when a larger setup is no longer needed. Traditional style pedestal tables display classic elements like elaborately carved pedestal bases; highly polished or distressed finishes; and ornate decorations incorporating shell, acanthus or scroll motifs.
What makes a Round Pedestal Table Special
Since round pedestal tables have a single post to support the tabletop, the footprint for this type of dining table is generally smaller than that of other types of standard-sized dining tables. But there is just something special about round pedestal tables as opposed to square or even octagonal. Here are a few attributes that make round pedestal tables really stand out.
They are great space-savers
Everyone seated around the table can easily see and interact with everybody
Because there is essentially only one table leg that is in the middle, there's no danger of anyone bumping their knees
When not used for dining, it's an ideal place to play cards or board games like Scrabble