If travel appeals to or you like to memorabilia from around the world, global style might be the interior design for you when decorating a dining room. Like shabby chic or French country, global style is an eclectic decorating style that takes its influences from around the globe. And for this reason, it is also known as international or world style. A global style dining room can reflect a trip to a Moroccan bazaar, market day in a village in India or a street market in Sri Lanka.
Gobal style is a growing interior design trend because it appeals to our sense of adventure, exploration and curiosity about the world around us. This trend's popularity is also due to the "global village" our world has become – no corner of the globe seems beyond our reach. And as we move from one place to another, irregardless of borders, the cultural mosaic of any one particular geographic area is constantly evolving. Inspiration for a dining set like the Stanley Furniture Sunset Key 7 Piece Cinnamon Bay Dining Set tables can be found in objects from some exotic location of the world. And because of this, global style is rich in textures, colors and shapes. Decorative motifs like palm leaves, pineapple tops and exotic animals or tropical flowers are common.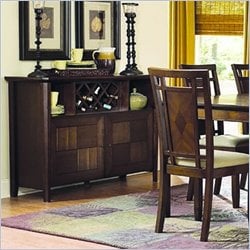 When choosing dining furniture for your global style dining room, think natural fibers for upholstered dining chairs, window treatments and area rugs; teak, mahogany and other tropical woods for furniture pieces like a dining table, buffet or china cabinet; bamboo, rattan and tortoise shell as accent materials for tabletops, case goods and chair back inserts. While the overall appearance of global style furniture can range from the sophisticated to the rustic, its predominate characteristic is a hand-crafted look that comes from the use of a distressed finish, natural materials such as cane or rattan or matched veneers in a distinctive pattern.
Wall colors can be as bold or as muted as you desire. Reds, purples, oranges and golds would be a good starter palette for inspiration for a global style dining room. Accessorizing is easy – choose framed prints (or select pictures from your own collection of photographs) of exotic locales. Upholstered chairs can be made of brightly colored woven fabrics; fabrics for window treatments might be made of silk, brocade or damask. Layer the room throughout with objects de arte like ceramic elephants, Indonesian masks and oversized iron candlesticks. As with any eclectic style, and global style is no exception, the way you design and decorate your global style dining room will be totally unique to you.