Some interior designers and interior decorators define contemporary style simply as what is happening at the moment regarding furniture and décor trends. However, other design professionals look at contemporary style as an off-shoot of modern, which emerged mid-twentieth century as a reaction to traditional design. Modern design stripped away anything that was "useless" or additional to the intrinsic form of the piece. Simply put, contemporary style softens the stark, undiluted appearance of modern bedroom furniture with some decorative detail, tapered profiles and/or textured leather, stone or metal accents. Contemporary style is ideal for those who want their bedroom to posses the clean, uncluttered look of modern, but still includes elements that give the room a warm, comfortable and relaxed look.
Choose a Neutral Palette
For a contemporary style bedroom that will serve as a great escape, choose neutral palettes for your walls that are conducive to relaxation and tranquility. Gray, cream, and pure white are all good choices. More neutral shades of earth tones such brown, taupe, sand and sage are also color palette alternatives for a contemporary bedroom. Should you wish to add color to the walls, choose a bold shade for an accent wall. Keep in mind, that the accent color you choose should have some context; in other words, it matches or complements something else in the room such as your curtains, an area rug or an accent piece.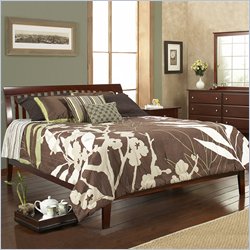 Contemporary Style Bedroom Furniture
When creating a contemporary bedroom that will provide the perfect escape after a busy or tiring day, select bedroom furniture with clean lines, smooth expanses and matte or satin finishes. Another option to consider is a contemporary bedroom set in birch, pine or maple. While lighter finishes are often more readily associated with modern style, light colored furniture can work equally well in a contemporary style bedroom.
Even if you are decorating a smaller-sized room, when arranging the bedroom furniture, leave as much free space as possible around each piece. You don't have to go all out Feng Shui, but not only will this make allowances for opening doors and drawers and traffic flow, it will also lend the room a spacious feel.