In terms of style, a transitional bedroom offers you the best of both worlds. With its blend of contemporary and traditional décor styles, transitional furniture has just enough decorative detail to remind you of its more formal roots, while possessing a relaxed, present-day sophistication. Transitional style bedroom furnishings merge angular and tapered lines with softly curving profiles. Transitional style is also known for its neutral palette, equally applicable to wood finishes like espresso, tan and vanilla as it is to wall color. The versatility of transitional style makes it a good choice for a great escape after a long day because it has an inherent chicness that is rejuvenating yet tranquil.
 Look Around
In order for a transitional style bedroom to provide a great escape, color palettes for the walls should be light hues of neutrals like white, beige and gray or earth tones that range from light tans to deep browns. Don't forget that yellows like sand or the gold of autumn leaves can also considered earth tones.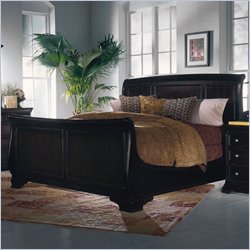 Look Up
Transitional style lighting blends the romantic fluidity of formal, traditional chandeliers with contemporary functionality. Transitional light fixtures contrast clean, austere lines with gentle curves and polished metal finishes. While a transitional chandelier or table lamp has the appearance and elegance of traditional style, decorative accents are not as ornate.
Transitional Style Bedroom Furniture
At first glance, transitional style is frequently mistaken for more formal styles of furniture, but the real "tell" is the use of motifs; while they abound in traditional furniture pieces, decorative motifs are used sparingly in a transitional context. Transitional bedroom furniture borrows the best of the classic elements of traditional and contemporary styles, merging them for a more formal look while keeping contemporary simplicity and comfort in mind. Profiles and lines are less curvaceous.
Transitional bedroom furniture, especially focal pieces like the bed or dresser, is scaled for contemporary living spaces like apartments and condominiums. Typical upholstered accent pieces like armchairs or bed benches are often overstuffed fro dramatic effect. Since the emphasis is on uncluttered detail and restrained decorative accents, transitional furniture is a great way to create a relaxing bedroom that will be a great escape.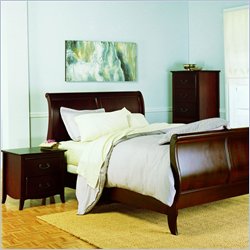 Come back next Friday for the third part of the Great Escape, where we'll explore contemporary style for a bedroom sanctuary.