The Brits, especially during the height of Queen Victoria's 63-year reign when her vast empire was spread over several continents, were ardent travelers and explorers. This is richly evident in the British Colonial style dining room where eclectic, exciting and inviting elements work together, resulting in furniture that is diversely sophisticated. Since British Colonial style celebrates tropical influences and travel to exotic places, this décor style is sure to add a little spice to the room where you spend time with your family and friends.
Color and Texture
Because of the many cultural influences that affected life in the British Colonies, colors were rich and vibrant. But they are usually reserved for the fabrics of upholstered dining room furniture, curtains, area rugs and accessories. Using a variety of bold animal prints and brightly colored fabrics is what makes this style so visually textured and exciting.
When decorating a British Colonial style dining room, color palettes for the walls are quieter and more subtle. Select muted shades of berry, forest, sky or sea. Cool-hued pale yellows and soft reds are also ideal. Should you choose to go the neutral route, use deeper shades as opposed to lighter ones to avoid a "washed out" look.
British Colonial Style Dining Furniture
When British subjects were sent on behalf of Queen Victoria to conduct business, govern territories or protect the empire's interests in colonial regions like the West Indies, India and East Africa, they of course entertained royals, heads of state and prominent military leaders. Though the dining room or banquet area was dressed to impress, British Colonial dining furniture displayed more relaxed, regional influences while still retaining the formal beauty and dignity of Victorian furnishings.
British Colonial style dining room furniture, usually made from tropical woods like ebony, mahogany and teak is distinguished by rich finishes, either polished or distressed. Typical features of British Colonial style dining tables and dining chairs are curvaceous profiles, sweeping curved lines and relaxed decorative detail. Chair backs, tabletops or tables often had cane, rattan or bamboo insets. Decorative detail could include tropical motifs like shells, botanicals and animal prints. These features would also apply to other dining furniture pieces like buffets and sideboards.
Accessorizing British Colonial Style
It might seem counter-intuitive, but heavier fabrics were used for curtains, essentially to keep out the tropical heat. Swag curtains with ornate valances were commonly used for window treatments while fabrics used for the curtains often included gold thread while tie-backs were made of braided and/or tasseled cords. Another option is to select shutters – they were also a popular way in British Colonies to keep out the heat and the damaging effects of the sun.
British Colonial style dining room accessories could include heavy candlesticks made of wood or brass placed on the dining table or the buffet; a sisal area rug underneath the dining set; hurricane lamps or hurricane style sconces; one or two potted plants in oversized Oriental ceramic planters, or tall case goods like a china cabinet or a curio cabinet.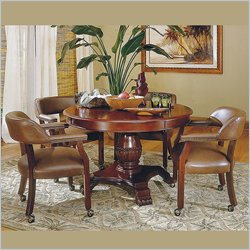 Come back next Friday when I start a new 3-part style series called Contemporary Loft Furniture Ideas.