The bedroom is the one room of your home that should be as luxurious and indulgent as you want it to be. Those little flourishes typical to traditional bedroom furniture such as bun feet, cabriole legs, scrollwork, pilasters and ornate brass or carved pulls are right at home in a bedroom environment designed to pamper and renew you. While grand, formal or stately (or all of the above), opulent traditional style layered for function as well as for show can be comfortable and comforting in its lavishness.
Set the Stage
This is the bedroom we're talking about! Any type of traditional style bedroom furniture that you choose will provide enough "drama" in the space. Keep the walls neutral, earth-toned or tranquilly pastel hues of heritage shades such as damask, rose, jade or delft blue.
Traditional Style Bedroom Furniture
Traditional style bedroom furniture has a timeless, comforting appeal because it is typically crafted from woods that have rich finishes,  either polished (shiny) or distressed (matte). There is something about a traditional style armoire, poster bed, lingerie chest or storage blanket chest that is sumptuous in a charming Old World sort of way. It is the elaborate detail – a shell motif, an inset medallion, carved pilasters, fluid decorative molding – that inspires one to hand these bedroom furniture pieces down through the generations because they possess the look and feel of heirlooms. Some traditional sub styles such as Queen Anne, Chippendale, Sheraton and Victorian have an undeniably romantic sensibility which is ideal for a lavish traditional style bedroom design.
Accessorizing Lavish Traditional Style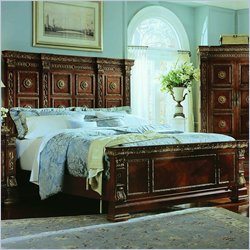 Go with as many extras as will fit the space. A well-placed accent chair will add functionality (a place to sit when putting on shoes) and luxury (a place to sit and read or meditate).
Anywhere there is fabric involved, it should be as lavish as you can afford. Select bedding sets with a high thread count for a soft, luxurious place to sleep.
Pile on those pillows – using accent pillows not only will make the bed more comfortable, it also adds texture to the room's focal point (the bed), especially when they are made from different types of material.
Make your window treatments stand out with fabrics such as silks or brocades that include gold thread.
Come back next Friday when I start a new 3-part style series called British Colonial Style.