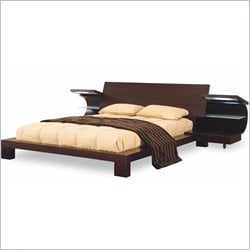 Modern style bedroom furniture is often instantly associated with metal, high tech plastics and glass. When wood is used as a construction material, it is typically bleached and lighter in color. But the Global Furniture USA Soho Bed, even with its lightly distressed dark wood finish, is definitely modern in style and design. The headboard panels that extend out over the built-in nightstands actually flip up and include night lights. Talk about form is function!
Décor Option #1 – Neutrals
With the Global Furniture USA Soho Bed as the bedroom's focal point, choose an earth toned color palette (all colors are by Behr) for the wall color.
Once the walls have been painted with any one of these shades, dress the bed with bedding to match. The Nygard Home Soho 10 Piece Bed In A Bag Set includes a comforter with a quilt weave that is beautifully textured.
The Brink & Campman Area Rugs- Luna Collection Fields 91801 brings each one of the neutral/earth tones in the bedroom together. In keeping with modern style design attributes, the pattern of the area rug is geometric but not uniform.
Décor Option #2 – Neutrals with an Accent Color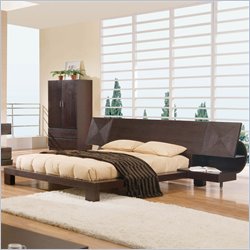 The Global Furniture USA Soho Bed is very versatile. The textured veneer end panels of the headboard created visual interest. Placing the platform bed in a neutral toned room against an accent wall will really draw the eye naturally toward the bed.
The neutral shades chosen for this palette are cool or blue toned neutrals. Use the lighter color on three of the bedroom's walls; the darker one as the accent color.
The Manor Hill Plaza Mini Duvet Cover Set can be matched to any of the above color combinations.
The Brink & Campman Area Rugs- Himali Collection Shade 94508 definitely complements the bedding, adding yet another dimension to the room.
Décor Option #3 – Neutrals with Bold Accessories
Using whites as the predominate neutral shade, color is brought into the room by selecting bedding and other accessories, such as an area rug, that are bright and bold.
The Mystic Valley Traders Profiles Plum Bedding Set has tones that appear in the area rug.
The asymmetrical pattern of the Brink & Campman Area Rugs- Icon Collection Confetti 772501 is totally in accordance with modern interior décor.