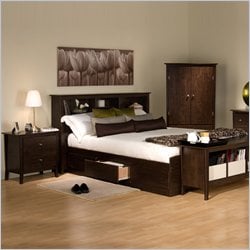 Since Japanese style interior design emphasizes balance, natural tones and the subtle and calming use of texture, it is an ideal choice for decorating a bedroom. For most of us, our bedroom is a sanctuary from our busy lives. Japanese bedroom furniture is low to the ground, to promote the feeling of stability and being centered. It also has a design benefit of making the room appear larger and more spacious. In the quest for balance, Japanese interiors incorporate the use of open spaces, contrast and functionality into the interior design.
To create a Japanese style bedroom, start with a color scheme that imitates nature, such the grays and greens of foliage; earth toned neutrals of sand, sun-bleached stone or weathered wood; and muted shades of earth and sky. Once the walls have been painted, plan to keep them relatively free of framed pictures, opting instead for one choice print or photograph.
In keeping with Japanese design principles choose bedroom furniture pieces that have a specific function; the more multi-purpose each one is, the better. Japanese bedroom interiors can never have enough functionality. Japanese style furniture is typically devoid of decorative detail, with simple lines and beautifully shaped and uncomplicated profiles. Instead of "unnecessary" decoration, visual interest, as shown by the headboard of the Tradewins East Village Kobe King Dark Wood Low Profile Panel Bed 3 Piece Bedroom Set, is often created with specific architectural features like angled legs and the geometric slatted design of the bed.
A low-to-the-ground platform bed is a must-have when designing a bedroom in the Japanese style. A platform bed, with a wood or upholstered headboard or one without any headboard at all is a viable option. Case goods such as dressers, nightstands and armoires commonly have oversized iron or bronze drawer handles and/or door pulls. In a Japanese style bedroom furniture pieces do not necessarily have to match one another in the "western" sense. When creating balance by using contrast it may be to your advantage to incorporate differently colored or shaped items. The connective tissue, if you will, should be simple angular or geometric profiles that are softened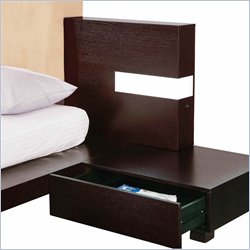 by tapered, gently curved or "layered" lines; simple lines will work perfectly with the other Japanese style pieces that you want to include in the room.
When accessorizing and adding those finishing touches, in Japanese interior design, less really is the way to go. The space should be fluid and uncluttered. Natural materials, like bamboo and rice paper, are common elements in Japanese design. These are easy to add to a Japanese style bedroom décor in the guise of lamps, light fixtures, vases and decorative screens. Don't forget about silk – place silk cushions and/or accent pillows on the bed; use silk curtains with sheers for the window treatment; select a bed bench or accent chair with silk upholstery. Ideally floors should be bare. If this is not an option, pick an area carpet or wall-to-wall carpeting that has an organic look and feel.