Design Question
Dear Heather B,
We have a large flat screen in our lounge with a long cabinet below. I would like to put up a painting of some sorts above or some artwork on either side. I have attached a recent photo (taken during the world cup) which was the only one I could find at such short notice.
My husband says it will be distracting and the wall colour, which is different to the rest of the wall colours is enough. But to me the wall just looks too bare and needs some life…
Let me know what you think… take me out of my misery
Design Answer
That's a great accent wall colour. Well-chosen and thoughtfully placed artwork shouldn't be distracting: the only time it is would be is when pictures are hung incorrectly; too many pictures are grouped together; or the picture frames selected are too "busy." It's such a great space; there are several things you could do with this wall to make it more appealing (hopefully to the both of you).
Option #1: Put two wall sconces, one on either side of the television. It will give you the option of using not having to use the overhead ceiling light all of the time. The mirrored accents of the AF Lighting Candice Olson Hollace 6 Inch Wall Bracket Light create visual interest without taking up a lot of space.
Option #2: Place a set of wall sculptures like the Infinity Instruments Wall Art Reflection Tree Decor Piece and the Infinity Instruments Wall Art Autumn Memories Decor Piece on either side of the plasma TV. It will provide a decorative element while creating a sense of movement in the room. This might sound like it will create the distraction your husband would like to avoid, but walls are "boring" when they are "stagnant."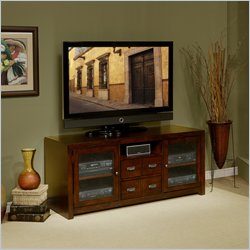 Option #3: Hang a larger sized picture on only one side of the television. Another variation is to hang a set of three or four small sized pictures above the TV.
Thanks for writing in. Stay tuned next Monday when we tackle another interior design question. And don't forget to keep sending me those emails!