If you enjoy entertaining at home, whether it is occasionally or often, then your home bar is probably already well stocked. But as we make our way toward New Year's Eve, particularly if you're having an open house or expecting a number of guests you don't normally entertain all at once, you'll want to be certain that you will have everything you might need, including those little extras that help you deal with the unexpected.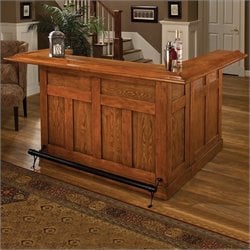 Logistics
Will the main gathering area be in the same room as your home bar? If not and you need to move it; get help if it doesn't have casters. Place it somewhere it's not going to interrupt traffic flow but at the same time will still be the life of the party. Decide if you want the front of the bar free of bar stools or if you would like to add more so that guests can cozy up to the bar.
Stocking the Bar
Especially at this time of year, make sure that you have all of the usual suspects like gin, rum, vodka, whiskey and tequila. If you know that you'll be making more cocktails than serving straight libations, you can buy economical brands for mixing and purchase one bottle of each of the higher-end spirits for those who prefer on the rocks.
You'll want a few bottles of red wine on hand. White too, but it is usually stored in the fridge. If there is one as part of your home bar setup, remember to add a couple of bottles of white wine on the day of the party.
Stock up on other types of liquor like champagne and liqueurs, particularly the ones you know your friends and family enjoy. You will also need non-alcoholic beverages, both for mixing drinks and for the non-drinkers in the crowd.
Those Little Extras
Get cutting – on the day of your party or festive gathering, prepare vegetables and fruits such as celery, asparagus, lemons, limes, oranges and mint for garnishes ahead of time (about four hours before should do the trick).
Make a list of condiments and other garnishes like olives, pearl onions, maraschino cherries, Worcestershire sauce, hot sauce, etc. that you will need to buy.
Have plenty of ice on hand. And don't forget to include those little cocktail umbrellas.
Happy New Year from Furniture and Design Ideas!