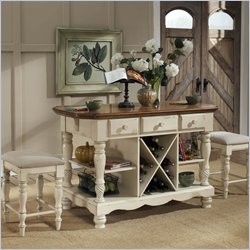 A kitchen must be practical, functional and look good. Not just a place to prepare and eat meals, today's kitchen is the social hub of the house, whether you're hanging out with the family, entertaining friends or need somewhere to lay out your current parent-child crafts project. Creating a kitchen design plan that reflects who you are as a family can help you get a new kitchen without the actual expense of buying a new one.
Purpose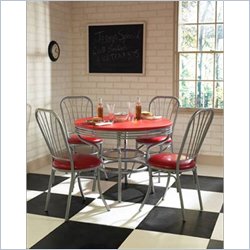 It might sound like stating the obvious, but what will be the purpose of your kitchen? If you've never given much thought to what role it plays in your life, working in your kitchen might be more of a source of frustration than a pleasure. All you might need to do is rearrange your kitchen to match your lifestyle. Keep in mind how many people will be using the kitchen on a regular basis. The kitchen's main focus will also determine the number of appliances that will monopolize counter space or need to be stored in cupboards.
If you entertain a lot, then you might prefer an open concept kitchen design that will allow you to talk to people while you're prepping or cooking food.
Does your kitchen have to do double time? If the only room in your home for a dining table and dining chairs is the kitchen, then you will need to allot space. The same applies if your kitchen is the only place for your washer and dryer, a mudroom or a workbench.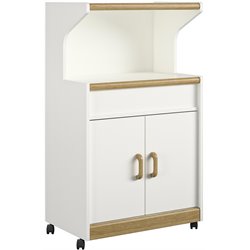 Is everyone in your family on different schedules and you eat together only on weekends? If this is the case, then probably the microwave will play a bigger role in your kitchen than the stove. If a built-in microwave shelf is not an option, the Ameriwood Microwave Workcenter will free up counter space while adding more storage.
Space
How big is the room? Take measurements. When designing your kitchen, also include any architectural features, such as structural walls, windows and doors that might restrict the use of your walls and floors. Also take into consideration how the kitchen relates to the rest of the house: if there is a bathroom off the kitchen, patio doors that lead out to your deck or the kitchen is enclosed, all these factors will affect traffic flow and impact the room's design plan.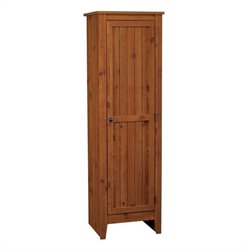 If the area you have to work with is limited, choose cupboards that maximize available space. If replacing the cupboards isn't in your budget make them more versatile with turntables, baskets or organizational cubbies. Freestanding storage units like the Ameriwood Industries Beautiful Single Door Pantry will add functionality to your kitchen.
Decide on the Essentials
In addition to the sink, cupboards, the stove and the fridge, make a list of those other appliances you can't live without. If you would like to include a deep freezer, dish washer or wine chiller, map them out on your kitchen design floor plan. Also take the time to consider which of your appliances will need permanent counter space. Items you use often enough to leave them out in the open, rather than putting them away after each use might include a rice cooker, an espresso maker, food processor or slow cooker.
Decide on the Extras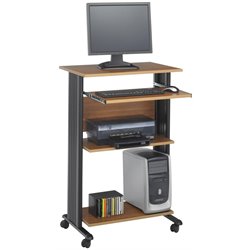 Once you've mapped out the basic design of your kitchen, it will give you a better idea of how much room you have to play with. Would you like to be able to watch the news while getting breakfast ready? Add a portable TV to your countertop setup. Always running back and forth to the family room to use the computer for new recipes or generating a grocery list? Consider placing the Safco MÜV Stand-Up Workstation at the end of a kitchen island. Want to be able to supervise homework when making dinner? Put a computer armoire against a kitchen wall or in a niche adjoining the kitchen.
Decide What Stays and What Goes
Appearances account for a lot. Sometimes a kitchen renovation is as easy as taking stock of the kitchen as is and then deciding what needs replacing and what needs sprucing up. Here are some ways to give your kitchen a facelift without a lot of effort or cash.
Don't underestimate the power of paint. Painting the room a trendy color will breathe new life into your kitchen. If money and/or time are issues, paint one wall a bold color; it will create a focal point while giving your décor a fresh perspective.
Is the floor looking a bit worn and dingy? Give it a little pick-me-up. Redoing the floor may not be as hard or as expensive as you might think. Today's market offers several "easy-fix" flooring solutions including self-adhesive tiles. Depending on the size of your kitchen, it may not cost a lot either, especially if you decide to DIY. Many retail outlets offer good deals on discontinued tile patterns or canceled custom orders.
If your kitchen cabinets are still in fairly good condition, but just outdated, revamp them by painting them, replacing the doors only or buying new hardware. Make sure that the paint you buy for your cupboards is made specifically for cabinets. Check with your hardware store to see if they will need primer or any other type of special preparation.
Is the existing space under-utilized? By adding counter stools to a kitchen island or the other side of a freestanding counter, you've created the ideal space to eat a snack or have a place to sit while chopping veggies. An unused corner could greatly benefit from a corner bakers rack; a great way to keep a choice selection of recipe books close at hand, as well as extra space for displaying collectibles.
More Mileage Kitchen Design Tips
Take a tip from the pros and look up. Installing the Concept Housewares Rectangular 36″ x 18″ Ceiling Pot Rack will not only add functionality but it will also give your space the look of a gourmet kitchen.
Plan on replacing your appliances sometime in the near future? If counter space is an issue, buy under the cabinet models.
Does the dining set in your kitchen still bear the battle scars of marathon finger-painting sessions and paper mache fights? Now your children are older maybe it's time replace that old kitchen table.
You can greatly improve the kitchen's outlook by updating the curtains or blinds, particularly if they're eight or more years old. Especially if your kitchen doesn't get much natural light, selecting a contemporary window treatment that lets more light in can give the room a completely different look and feel.
And speaking of light, when fixtures are outdated or inadequate, it can take its toll on your kitchen by making it appear dark and uninviting. Changing the lighting will make a tremendous difference to the space. Even if you have to hire an electrician to install the new fixtures, it will be worth it if it makes the kitchen more functional and welcoming.
You can spend a lot of time in the kitchen. If you think that a new kitchen isn't in your future because of budget restraints, you might want to reconsider. With a bit of creative thinking, a lot of planning and a little DIY, you can have a kitchen that really will be the heart of your home.