Design Question
Our oak furniture is too large for our bedroom but I have no choice but to keep it. So I would like to at least make it look different. My original plan was to paint the bedroom furniture black and distress it; paint the walls a steel bluish color; and use white bedding. I am now rethinking that design because I am scared that the black of the furniture will just make it pop and be that much more noticeable that the scale is too large. Any suggestions on paint color for the furniture, paint for the walls both bedroom and bedding? My trim is white and I really would like to keep it because it would be a lot to paint. I also have an attached master bath that I would repaint as well to match or blend with the bedroom. Thanks for your help!
Design Answer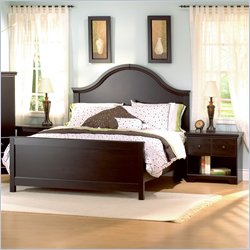 You have good instincts – the original plan you describe sounds simple yet sophisticated. By using neutral (black bedroom furniture, white bedding) and cool (steel blue walls) colors and tying the white already in the room to the bed through white bedding, you are essentially diminishing the effect of the oversized furniture in your bedroom. Cool or neutral paint colors move the walls away from you, creating the illusion of a larger space.
You might have no choice but to keep your bedroom furniture, but does it all have to be in the same room? For example, can you manage with a single nightstand or can the nightstands be replaced by glass side tables that will add yet another "neutral" element to the room? Are there other small changes you can make that will "open" up the room?
Thanks for writing in. I hope this has been helpful. Let me know how it turns out. Return next Monday when I reply to another design question.