How you design your bedroom and the bedroom furniture you choose to furnish it with is very important to the overall mood. We instantly feel relaxed and welcomed in spaces, especially bedroom spaces that are spacious, well-lit, uncluttered and aesthetically pleasing. Known for its underlying simplicity of line, shape, form, the clean lines and streamlined detail of modern style bedroom furniture ultimately contributes to an atmosphere of calm and tranquility, which is exactly the right tone you want for a bedroom that will be your sanctuary after a busy or even hectic day.
Earth tones and neutral palettes with splashes of bold color characterize a modern style bedroom. Whites, grays and blacks are commonly used as main or accent wall colors. Color is always used sparely: in a modern interior design bedroom, color is an exclamation instead of a conversation. If you've chosen a bold color like red, orange or intense blue as an accent color, select neutral colors for other items in the room such as lamps, window treatments and carpets or area rugs.
To the unfamiliar eye, furnishings can look stark or devoid of personality. Clean lines, natural elements, lighter finishes and polished, gleaming expanses typify modern style bedroom furniture. Because form is function, decorative detail is viewed as "unnecessary."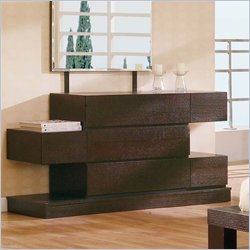 Visual interest is commonly created through the design and appearance of the individual bedroom furniture piece. Shape, both strictly geometric and asymmetrical, is often used for dramatic effect. The result is bedroom furniture that is deceptively simple; but because lines are uncluttered, the eye isn't working overtime, and the sleek profiles work just as well in smaller spaces as they do in larger ones.
When accessorizing – don't! As with modern furniture design, when accessorizing your modern style bedroom, less really is more. While you do want the room to be inviting, you don't want to add anything that does not have a specific purpose; including items that are solely decorative will not reflect true modern style principles. 
Modern style furniture has clean lines and streamlined detail. Profiles are strictly angular, geometric or asymmetrical. It can even have a "space age" appeal; so decide which modern vibe will work for you.