It doesn't matter if you're a stay-at-home parent working on a part-time basis; an entrepreneur running a home business full-time; or a business executive who needs someplace quiet to work on the weekends, the home office is your base of operations. Yes, it should be functional, practical, comfortable and especially if you have clients or colleagues come to visit, professional looking.
But what if you designed your home office to reflect your personal preferences; inspire and rejuvenate you; and to possess an underlying den-like atmosphere that is relaxing yet also energizing? Then you would have a home office that is your own personal retreat, as well as a place where you get things done. When creating a home office as a personal retreat the trick is to integrate luxury anywhere you can into your overall design plan. Luxury doesn't have to mean expensive; it simply means focusing those little details that go beyond functionality to create a work environment that is also beautiful and meaningful to you.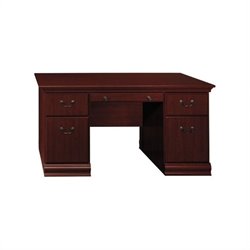 The computer desk or writing desk is center stage when planning a home office that will be your personal retreat. This is where it all happens – drafting the big proposal, making the sales that pay the bills, figuring out where you go from here. Standard computer desks are called "standard" because they can be used for a number of purposes; not just for particular use like a drafting table. Executive computer desks are intended to impress and are typically more elaborate in details and features. Choose an executive desk like the Bush Furniture Birmingham Executive 60″ Computer Desk in Harvest Cherry Finish. It has plenty of surface workspace (practical) while its rich, warm wood finish (esthetically pleasing) commands attention.
Even if you work from home part-time or only occasionally, the office chair or desk chair you choose should be comfortable. Select an office chair that will not only complement the desk you selected, but will also support you ergonomically. Splurge on a chair like the Distinction Leather Buttoned Swivel Tilt Executive Chair, which is designed to impress (and be comfy too).
To create a space that is both a functional workplace and personal retreat, add those little touches that will individualize your home office. Just by placing an armchair or two guest chairs next to a window or a floor lamp paired with a small accent table, you can transform a corner of your home office into a quiet place to catch up on your reading or have or cozy chat with a client.
Or simply add the Selamat Designs Connoisseur Burl Walnut Desk Caddy or the Howard Miller Athens Tabletop Clock that will not only keep you organized, they also add that little something extra to your home office.
The possibilities are endless for creating the perfect home office retreat. Spend some time on selecting prints that reflect your personality and some extra cash on really good picture frames. To give your home office that den feel, include a drinks cabinet like the Howard Miller Wine Cellar Hide a Home Bar Console.