Since computer desks come in a number of sizes, ranging from compact to executive, you can design your new home office around any space that is available. Whether you will have an entire room at your disposal, a niche off a hallway or a corner of the family room, you can have a contemporary style home office or workspace that is practical, functional and inspirational.
First Things First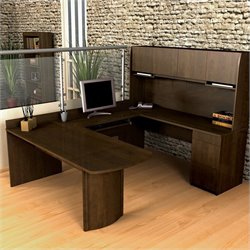 Decide where you will put your home office or workspace.
Make a list of office furniture you would like to have in the space, such as a computer desk, filing cabinet and office chair.
How many people and are they right-handed or left-handed? If you're designing a home office or workspace that is going to be shared, a desk like the Bestar Executive U-Shape Wood Office Set could be the perfect solution when addressing handedness and two people sharing.
Prepping for Your Home Office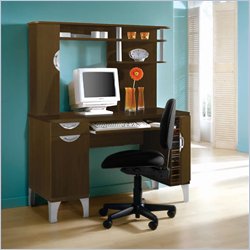 The contemporary home office blends the functionality of a business office with the warm ambiance of your home. Because the color palette for a contemporary style home office can be neutral or bold or anything in between, and the lines of contemporary home office furniture are sleek, smart and functional, the result can be a pleasant work environment with a modern, upbeat look.
If you have a choice, select a hardwood or laminate floor in a light to medium wood finish. This type of flooring will also add to your contemporary design. Use it as a "foil" or backdrop for an area rug in bright colors with a geometric pattern.
Accessorizing Your Home Office
Take some time to consider what kind of window treatment you would like for your home office. Especially if it has its own room, the curtains or other type of window treatment you select should pull all of the other décor elements in the space together so that it is visually cohesive.
If your home office is part of another room, you may wish to differentiate it from the rest of the area by an area rug or decorative room divider.
Shed some light. A mix of contemporary task lighting such as a desk lamp and/or a floor lamp combined with some kind of ambient lighting like a flush mount ceiling fixture will provide a good balance for when you're working at your desk or your getting something from the bookcase or file cabinet. design of your modern office.
A wall clock or a desk clock is a must-have item to keep you track and on time.
Don't forget to hang some pictures on the wall that will not only give your home office a finished look, but ones that will also provide inspiration. For that special touch that will make the space unique to you, place framed photographs of family and friends on the computer desk and the shelves of the bookcase.