In part two of our series we will discuss how to design a modern style dining room that has a slightly more relaxed look. While still modern, it won't be austerely minimalist. This is for people who find the idea of modern style appealing but are afraid that it will end up looking too industrial or space age. You can successfully design a less minimalist dining room by selecting modern furniture with different textures that incorporate bold color or the use of shape in unique ways.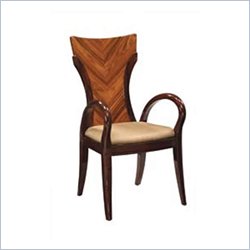 Modern dining room furniture has lines that are clean, rectilinear or angular. Furniture pieces, like the Global Furniture USA Rebecca Arm Chair, typically possess exuberant shapes that could even be considered sculpture-like in appearance. The veneer-like pattern of this dining chair creates a visually stunning focal point.
It should be minimalist in design while providing the maximum amount of light.
Asymmetrical shapes can seem "warmer" or at least not as minimalist as straight or angular lines. Both the ItalModern Lotta Indoor or Outdoor Black Plastic Dining Side Chair and the ItalModern Beatrix Modern Green Dining Chair with Chrome Legs definitely have the appearance of a sculpted work of art. They also use asymmetrical shape in astonishing and exciting ways that will bring an energizing feel to your dining area. Popular construction materials for modern style furniture are glass, plastic and metal. The Lotta dining chair is made of plastic while the Beatrix dining chair is fashioned from a combination of plastic and fiberglass and includes metal legs.
Modern style is well-known for its crisp lines, straight edges and no decorative detail. Does this mean you only buy plain or "boring looking" furniture? Don't you need decorative detail to make furniture interesting? The modernists didn't think so. The Modloft Howard Modern Upholstered Dining Chair is a great example of how visual interest is created by the raised square design of its side panel. While the profile of the chair is strictly geometric, the tapered legs combined with the textured side give it a softer appearance.
The underlying simplicity of modern line, shape and form is ideally suited to the dining room. Modern style dining table designs are cool and sleek. They are often characterized by polished surfaces and geometric profiles. The focus of the modern style is on form and function. While metal and glass are popular dining table construction materials for modern style dining furniture, for a less minimalist look, select one made of wood, with or without a glass tabletop. Especially for a dining room that is used often or regularly to entertain guests, you will want to select a dining set that includes chairs with comfortable seating.
The Modloft Cliff Extendable Wood Dining Table has a truly modern design. The tabletop and the legs of the dining table are defined by clean, smooth expanses of wood. The floating effect of the tabletop is created by the metal accents that lift it up and away from the legs. No added decorative detail is needed: the eye is instantly drawn into the room by the table's striking design and form.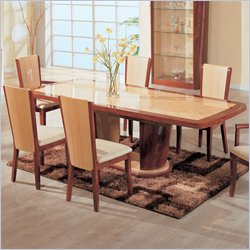 The modern style of the Global Furniture USA Gabriella 5 Piece Dining Set is evident in its use of uncomplicated geometric shapes. The two-tone finish combined with the paper veneer accents will add layers of texture to the dining room's interior design.
Here the use of curves and color give the Global Furniture USA Neville Dining Set a distinctly modern look without the minimalist vibe.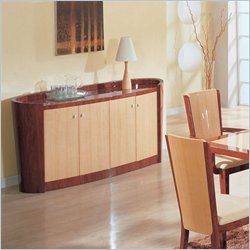 In keeping with the dictates of modern design, the Global Furniture USA Gabriella Buffet displays highly polished surfaces. The lines, with a touch of curvature, are sleek and beautiful, ideal for a less minimalist dining room.
While the Modloft Elizabeth Modern Buffet Table possesses some of the main elements of minimalism – sleek, metal legs and hardware; straight lines; composed of wood, metal and glass – the warm walnut finish diminishes the starkness of its profile.