One of the biggest decorating challenges has to be a small room. It doesn't matter if it's a tiny bathroom, a short, narrow hallway or small living room or bedroom. While for many of us, the instinct is to make a small space appear larger, it doesn't necessarily have to be that way – the main objective for small room design is to translate cluttered or cramped into cozy. There are many tips and tricks that you can implement to help you get the look you want while creating a comfortable space to be in, no matter the size of the room.
Think Twice
When decorating a small room, you don't want a lot of furniture in the room. Select furniture pieces like a bench for a bedroom or a coffee table for a living room that includes hidden storage. Another great example of dual purpose is the sofa bed. Dual purpose furniture is ideal for small spaces; it eliminates the need for additional furniture pieces while maximizing your floor. Because there will be less furniture in the room, you will have the luxury of being able to arrange each piece of furniture so that it can some free space around it.
Think Up
Go vertical rather than horizontal:
Use walls to their best advantage; add shelves and small cabinets to the walls rather than the floors
Choose vertical furniture pieces like a lingerie chests, bunk beds or armoires that will utilize wall rather than floor space
In a kitchen the ceiling can be used for a hanging pot rack or some other type of hanging storage; in a small living room or family room, the wall doesn't have to be reserved just for shelves – hanging a TV on the wall eliminates the need for a TV stand or an entertainment center
Think Under
While under-bed storage is a common practice in bedrooms, you can apply the same principle to other furniture pieces in your home. Add baskets or cubbies to end tables, a console table in a hallway or sideboard in a dining room.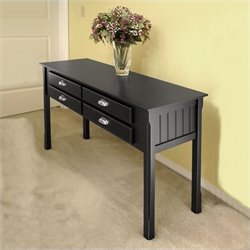 Think Carefully
Accessorize with care. While we don't immediately associate personal touches like knickknacks, pictures in frames, candles, etc. with clutter, nothing makes a small room appear cramped faster than a large number of decorative items scattered throughout the space. Have a plan: group four or five objects together in a three or four choice places.