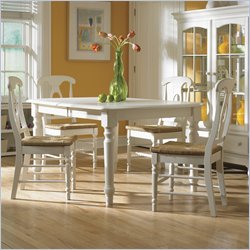 Today in the last part of this 3-part mini series "Country Living Cottage Style," we're focusing on the dining room. A cottage style dining room reflects lazy days spent by the lake or a place to come back to after a long trek through the woods or down a winding  lane in farm country. It's comfortable, cozy and completely charming. If done "right," it will give you the impression that time is not so important and this wonderful evening with family and friends is not going to end any time soon. Cottage style is eclectic and can be as casual (taking its cues from country) or as sophisticated (incorporating more traditional influences) as you want it to be.
When choosing a color palette for you cottage style dining room, pick earth tones, preferably more intense shades than lighter – the yellows and golds of autumn leaves; the greens found in moss, forests and grasses; and the browns and reds of the earth itself.
Another option is to start with antique white or soft cream. Then add a bold accent color or paper one wall with classic floral wallpaper in a bright hue. This will provide an ideal background for a two-tone dining table like the one that is part of the
Cottage style furniture is typically made of wood, but as demonstrated by the Stanley Furniture Portofino Ivory Wood and Metal Table, iron is a natural element to throw into the mix. The metal base of the dining table includes traditional scrollwork that looks great when paired with wood. Popular woods used in the construction of cottage style dining furniture are pine, oak and ceder. Common finishes include pine, antique white, distressed and washed. It's not uncommon for cottage style case goods such as sideboards, buffets, dresses, china cabinets or hutches to have beadboard panels or louvered doors.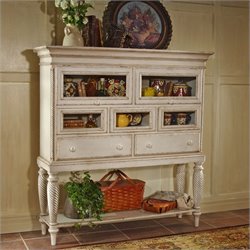 Consider adding a large dresser to your dining room – it will perfectly emphasize the comfortable and versatile nature of cottage style while giving you an ideal place for storing tableware and displaying items like jugs, baskets and decorative plates. It is also an ideal way to re-purpose a now unused dresser from a redecorated bedroom.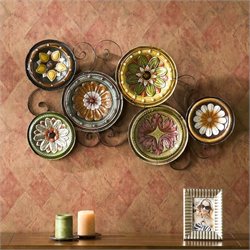 A cottage style dining room is ideal for a home with children because it is an eclectic style, allowing you the freedom to be a laid-back or as formal as you want it to be. It's easy to get that certain look that will make your dining room the place to entertain (with or without the kids around). Just remember to mix and match collectibles with more traditional reproduction pieces; when dressing windows use at least two different patterned fabrics like pairing gingham with floral; and finally, when accessorizing, don't forget to include some natural, organic elements such as ceramic bowls, pottery jugs, heavy iron or stone candlesticks.