Since we just pass through them on our way to somewhere else, sometimes hallways and even the entryways of our homes can end up as dead space simply because we are at a bit of a loss as to how to decorate them. Decorating with hall tables makes perfect sense: hall furniture such as a console table or accent chest is not only practical; they can add functionality and visual interest to an otherwise "empty" space. But it won't be much of a benefit if you just stick a hall table against a bare wall. When you give some thought to selecting the right hall table, improve the appeal, design and functionality of the space by adding interest, focal points and those personal touches that make your home unique.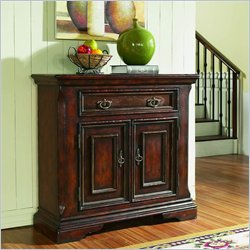 Location for your Hall Table
Before selecting a hall table, decide on the location. An accent table for an upstairs hallway across from the master bedroom will serve a different purpose than a console table in the entryway by your front door. Measure the area where you would like it to go; since hall furniture, including hall tables come in a variety of sizes, you will be sure to find one that will fill the space proportionately. If the hall table or accent chest has doors, ensure that there will be enough room to open and close them.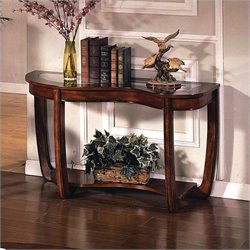 Purpose of your Hall Table
Hall furniture such as accent chests, accent tables and hall tables, doesn't just serve an esthetic purpose. Are you always loosing your keys? Can you never find your gloves just as you're about to leave the house? Don't want to run back upstairs for a scarf? Accent chests and hall tables are available with a number of features that can boost the functionality quotient of the hall or entrance to your home.
A hallway can be "boring." Create a focal point for a long, narrow hallway with an accent chest; it can make the space visually interesting.
Increase the storage capacity of your front hallway with a console table or accent chest that includes baskets, cubbies or drawers.
In a small entrance way or a narrow hallway, pair a console table with a mirror; the mirror will make the space appear larger than it is.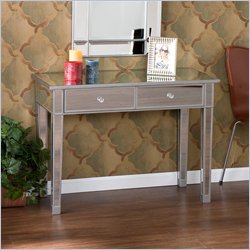 Accessorizing you Hall Table
Once you have decided on what type of hall table or hall tables will best suit your home, don't forget to make the most of them. The way you accessorize you hall table, accent chest or console table will definitely add your personality to the room. In an entryway way, nothing says "welcome" like a vase of fresh flowers sitting on your console table. An accent chest in a second storey hallway is a great place to display family photos while a hall table outside of a living room or dining room can be used as a place for an extra lamp.