Coastal style is becoming more popular than ever due to its versatility and casual savoir faire. While furnishings reflecting a coastal theme don't possess one definitive style per se, coastal living room furniture is distinctive with its relaxed profiles, lighter or more exotic finishes, louvered accents and fabrics that echo marine life or a day spent by the beach. Aside from its many faces, coastal style is inspired by the lifestyles and objects closely associated with the different coastal areas found throughout the world.
Pick a coast. Because each one has its own unique flavor, mirroring a particular region and its social trends, you will want to focus on only one coast for the emphasis of your living room interior design. This choice will play an important role in the color palette you choose. For example, the Eastern Seaboard is more closely associated to moody grays, misty whites and paint-washed blues. But the Pacific Coast, especially California is linked to brighter colors like marine blues, sandy neutrals and sunshine yellows.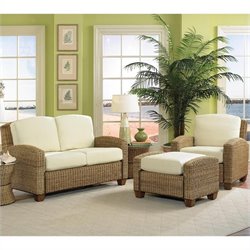 A coastal style living room borrows its color scheme straight from the sea. Fabrics range from rich earth tones to the vibrant colors of reminiscent of the sun, sky, tropical fish and coral reefs. Furniture designs commonly create visual interest with textures borrowed from natural fibers or panels of woven or inset organic materials like wicker, rattan or ceramic tile. Throw down a woven area rug of sisal or sea grass.  For a casual seaside resort holiday atmosphere, select a coffee table set with a white or soft pastel milky finish for a touch that is light and festive. This style of living room can also accommodate larger showy pieces like a TV armoire or a curio cabinet, especially if it includes beadboard or louvered panels.
When accessorizing a coastal style living room, you want to evoke the feeling of a summer holiday by the sea or a life lived by the ocean. Place a braided rug under the coffee table or in front of an electric fireplace. Put a row of woven baskets on a bookcase shelf; this little decorating trick will not only add an organic element to your coastal style living room, it will also make the space more functional. Group found objects together, such as a handful of shells or other little treasures from the sea to create secondary focal points throughout the room.