Whether you're transforming the ex-nursery into a "big" boy's bedroom or redecorating because it's just time for a new look, consider the color navy blue. While it is of course a color, it often functions much like a neutral shade such as black or beige. Navy blue can be layered throughout the room in a number of inventive ways, through the use of actual navy blue bedroom furniture, bedding and accessories, including wall art and area rugs. You can use navy blue "straight up" or mix-and-match with white and red for a truly classic look that might even last until he's off to college.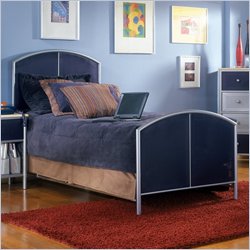 Pick a Theme
Especially if you're upgrading from nursery space to a first "real" bedroom, pick a theme. This is an easy way to start decorating, because it will help you focus on a particular topic, hobby or interest that will inspire your son. As well, everything you select for his room will be related to this theme, resulting in a room that has cohesive, finished look.
Pick Where the Navy Blue Will Go
You will probably not want navy blue both on the walls and as the color of the bedroom furniture. A classic choice is to paint the walls navy, providing a rich backdrop for a light colored bed. But there is something to be said for a bedroom set that isn't a typical dark wood finish or one that is black.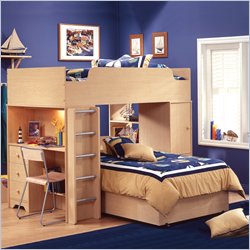 Pick the Accessories
Have fun accessorizing your son's room, especially if he is able to contribute ideas or "help" you with some final decisions. A table lamp with a red or green base and/or shade will add a punch of color to the navy blue already in the room. If you are accessorizing a bedroom with a bunk bed in it, an easy way to define each boy's "territory" is to choose complementing bedding sets as opposed to matching ones. Don't forget the floor, even if you already have carpet – area rugs in primary colors will introduce a light-hearted element into the room's décor. Adding window treatments, wall art and themed bedding will give your boy's navy blue bedroom a classic look that everyone can enjoy.