Design Question
Hi Heather! I hope you can help me! I need help organizing my bedroom! It's not just my mother nagging me about my messy room anymore. Now it seems that no matter what I do, I can't find anything and it seems that I'm spending more time looking for stuff than relaxing or studying. When I get ready to go somewhere it's very frustrating because I have so many pairs of shoes they're all in piles on the floor of the closet or stuck under the bed. Not only is my closet small, all of the drawers of my dresser are crammed full. I am hoping that you could give me some ideas on how to organize my room so there is more room me and I can find stuff better. I could also use some ideas as to how to organize my make-up and my (many) bottles of nail polish and perfume. Any help would be greatly appreciated! Thanks! Danielle.
Design Answer
Hi Danielle. Especially when you don't have enough storage space, things can seem to get out of control pretty quickly. The bottom line is you will need storage solutions that provide a place for everything so that you will have easy access to your clothes, shoes, make-up, etc. Since you didn't mention a budget, I will keep my suggestions "budget conscious" but it sounds like you might need to splurge on a closet organizer of some kind as well as a couple of other storage solutions.
Storage Solutions for Clothes
The first thing I suggest that you do is sort through the clothes in your closet and in dresser drawers. I'm sure you will find items of clothing you have grown out of or no longer like to wear for whatever reason. After donating and tossing, I'm willing to bet that you will find some "spare" room.
How are your dresser drawers arranged? If everything is jumbled in together, you might try separating your clothes into like with like – all of your underwear in one drawer; tees, camis and shells in another; sweaters in a drawer of their own. When you group and store the same types of clothing together they lie flat so that you can fit more items into each drawer.
If there is room in your budget (and room in your bedroom) for a lingerie chest, this is a piece of bedroom accent furniture that is very versatile. A lingerie chest typically stands taller than it is wide, which means it can hold almost as much as your dresser but won't take up as much floor space.
Is there another closet in your home that you can use? If the answer is yes, sort your clothes into seasonal, and keep what you are currently wearing in your bedroom. Store your summer clothes and shoes in the spare closet.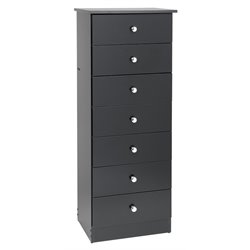 Storage Solutions for Shoes
Again, as with your clothes, go through your shoes – donate any pairs you haven't worn in a year or toss ones that can't be repaired.
Under the bed is a great place for shoes! Clear storage bins that will slide easily under you bed will allow you to see what's inside while keeping them out of the way.
How small is your closet? See if some type of shoe rack will fit – it could help you organize the shoes you wear most often.
Storage Solutions for Make-up
Dollar stores are great places to find bargain storage solutions. Baskets can be your friend: choose ones that will easily hold items like blush, lip gloss tubes, mascara, etc. without being too big. You can sometimes find really good inexpensive items like small metal bins or pails that will be ideal for cotton puffs, make-up brushes, pencils and whatever else you need to hide away but keep organized and handy.
Thanks for writing in Danielle. Keep sending me your design questions. I love hearing from you.