Counter height bar stools have the distinction of being "borrowed" from the favorite local pub and transformed into a popular kitchen décor or dining room trend. By blending trendy style and contemporary design with practicality and comfort, decorating with counter height bar stools is an easy way to make a room like a kitchen, dining room or virtually anywhere in your home where you entertain more functional and convenient. Regardless of the décor style, bar stools can bring a sophisticated look and feel to any kitchen island, breakfast bar, family room or den. Nothing else quite shows your personal taste like bar stools that make a statement.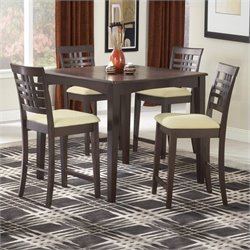 Bar stools or counter stools for intended for a kitchen, dining room or a home bar come in a variety of heights, colors and designs. Many types of bar stools have unique designs that can complement any number of décor themes and/or interior design style. A bar stool chosen to match the height of a counter, kitchen island, home bar or gathering table can help improve a room's appearance in addition to enhancing your lifestyle. Well-placed bar stools can make a room "pop," converting a kitchen counter or a wood gathering table into a focal point that draws the eye into the space in a pleasing and surprising way.
Even if you don't have a kitchen island or a breakfast bar but you do have a dining room, turning an unused corner of your kitchen into handy eating area or as place to gather with family and friends is a practical way to increase the versatility and functionality of your living space. It's as easy as choosing a counter height dining table and matching barstools. Since space is hard to come by in apartments, condos or smaller sized homes, having an extra eating area is especially useful when planning a holiday get-together or other celebratory occasion.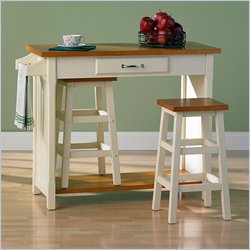 The main advantages of decorating with bar stools are esthetics and practicality. Even if they have been bought for a certain location in mind, such as a breakfast bar or gathering table, they can be easily moved to other rooms in your home when needed. Kitchen counter bar stools can be simple in design or as decorative in appearance as a dining chair, but whatever the style, color or type, well-chosen kitchen counter stools can unify the different décor elements in a room, creating an atmosphere that is both stylish and welcoming.