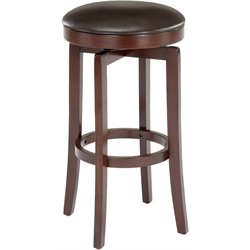 We've talked about home bars many times here on Furniture And Design Ideas. Today, we're taking a specific look at leather bar stools and the atmosphere they add to your home.
Leather bar stools are one more element you can add to your home bar that makes it feel closer to the real thing. For a wide variety of décor themes, adding leather bar stools could be the finishing touch that takes your space from average to extraordinary.
If you love leather and you love to entertain at home, this seating option is a great choice for any bar area, be it a cocktail bar in your living room or a breakfast bar off your kitchen. Browse with the design style and height specifications you prefer to narrow your search.