French country style is ideal for a living room because, while it has strong ties to more traditional formal French styles like Louis XIV and Neoclassical Empire, it possesses a casual charm that reflects the colors, sights and sounds of life as it lived and celebrated in the rural areas of France. It echoes the seasons and the timeless dance between the people and the land. By mixing the old with the new – the antique table that was handed down from great-great grandmother and provides a stylish resting place for the oversized blue and white porcelain vase rescued from a flea market – you will create a room with a chic, rustic appeal that perfectly reflects your lifestyle, personal tastes and individuality.
The focus on French country interior design is on comfort, while still maintaining elements of casual elegance and relaxed sophistication. So naturally a common focal point of a French country living room is the stone fireplace. There are several great things about the Southern Enterprises Slate White Corner/Flat Fireplace: it can be placed flat against a wall or adapted for use in a corner of a living room; it is an electric fireplace; and it has dark slate accents that bring natural organic elements into a living space common to French country style such as stone, cane and wrought iron.
The way in which French country approaches the use and arrangement of individual furniture pieces also serves to make this style comfortable and inviting. While furnishings will complement each other, they don't tend to match, as in the three-piece living room suite (sofa, loveseat, armchair) often found in North American homes. This gives a living room an overall relaxed look and feel. It also allows for a more flexible and conversational seating arrangement.
Start with an oversized sofa, preferably with rolled arms and a wide enough seating area to which you can add at least one or two layers of accent pillows and still be able to sit comfortably. The decorative pillows should be chosen with texture and shape in mind; cotton stripes with nubbed wool; solid colors with toile. The Simmons Upholstery Bixby Sofa in Peat has the obligatory rolled arms, a pillow back with accent cushions and wood bun feet. A couch with a skirt instead of legs would also be an alternative choice for a French country living room. Metal legs are good too, especially if they are antiqued or rustic-looking. But do avoid a sofa with more contemporary style legs of polished chrome, steel or nickel.
Coffee tables, end tables, side tables, console tables or any other kind of accent table or occasional table you select for your French country living room should be made of either wood with a distressed finish or of metal and glass or stone. If you choose the metal and glass option, again pick rustic as opposed to contemporary – anything with wrought iron, brass or copper legs, frames or decorative accents are perfectly acceptable construction materials for a French country interior design.
The Magnussen Aidan Round Wood Cocktail / Coffee Table has a richly layered finish with soft wood tones that enhances its round profile and uniquely shaped legs. It will definitely lend an old-world charm to your room.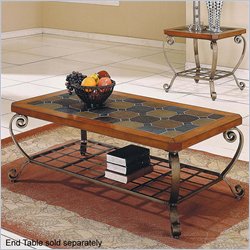 Since elements like terra-cotta, marble, slate and even ceramic tile are popular materials for tabletops or decorative accents, the Steve Silver Valencia Cocktail Table is ideal for a French country living room. The metal base includes scrolled legs and has a distinctly rustic metal finish.
The Butler Specialty Artists' Originals Round Wood End Table displays another distinguishing characteristic of French country furniture: wood is commonly hand-painted with a floral or fruit motif.
French country wall colors (shown here from Sherwin-Williams) reflect the brick of a wall in the old part of town or the crate of tomatoes sold in an open air market; the mustards and golds of autumn leaves; the brighter yellows of butter, lemons or the sun.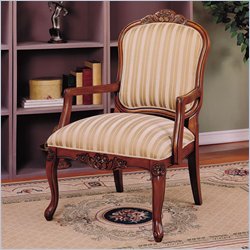 Accent chairs and armchairs play an important role in French country design. Placed singly or on either side of a bombe chest or wood console table, you create a comfortable place to sit and read or to chat with a friend while sipping a cup of tea or café au lait. You can even pair two totally different accent chairs together, like the Powell Furniture Belvedere Accent Chair and the Klaussner Furniture Bellavista High Leg Reclining Chair as long as they are comfy and a great place to relax for a fair period of time.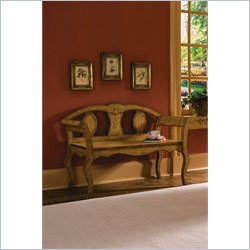 The Pulaski French Floral Bench is classic French country with its lovely hand-painted floral designs, sleigh-style rolled arms and oval decorative panels. It would be a wonderful piece to put in a hallway that opened into the living room, if not the living room itself.
Achieving a French country look for your living room is not difficult. With a few choice furniture pieces that look like they have withstood the test of time; a color palette captured from spending a sunny day in the orchard and a few pastoral prints on the wall in carved frames and accent pillows piled on the sofa, you will have an enchanting and inviting living space that possesses an old world charm you and your friends will appreciate for years to come.