It's easier to make a splash with some pieces of furniture than it is with others. But when you pair certain pieces of living room furniture together, say a fireplace and a club chair, you not only up the room's "wow" factor, you also add another layer of comfort and functionality to your living space.
A club chair or a recliner parked beside an accent table instantly forms its own grouping separate from rest of the living room. Just add a lamp and you have your own personal space for reading the latest bestseller or catching up on the evening news.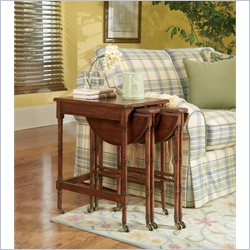 In a living room or family room, pairing a loveseat with the Butler Specialty Plantation Cherry Wood Nesting Tables increases your options: it allows you to have a meal in front of the television; a place to put two different bowls of munchies while watching a movie; and when entertaining, you can move the nesting tables around the room to wherever else they are needed.
Placing an unusual mirror above a console table in a foyer makes a statement about your personality and the home you're welcoming people into. Whether the mirror is an attention grabber or not, pairing a console table and a mirror together is a practical combination – you can set down your keys or purse to check your appearance or fix your lipstick just before you go out the door.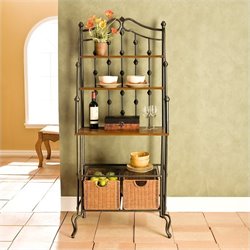 To create a conversation piece and punch up the room's visual impact, include pieces of furniture that are typically found in other rooms, such as a dresser in the dining room instead of the traditional sideboard or a baker's rack in a hallway in lieu of  the standard console table.
I have stayed in places where there was no nightstand by the bed; it always causes me minor annoyance at the realization that I have to now get out of bed to turn out the light just as I feel I could easily drift off to sleep. A nightstand or a bedside is the perfect companion for any type of bedroom, from a master bedroom to a guest room to a child's room. If you want to ramp up your bedroom décor replace the standard night stand with a hand-painted accent chest or a bachelor chest, which is slightly wider than a nightstand but not as wide as a dresser.
Pairing furniture pieces in such a way as to increase the room's functionally is just good sense. You can also make your furniture pairings stand out and grab attention by selecting living room, hallway and bedroom furniture pieces that are unique and striking.