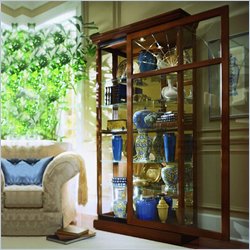 Antiques, memorabilia and collectibles can be anything from a few treasured postcards to antiques to a hug (a collection of teddy bears). Sometimes though collecting can snowball, becoming problematic by taking up too much of your living space. Whether your collection is small or large, a "museum" approach is best; what you view in on display in museum is only a portion of its entire collection. By displaying only a few choice pieces and storing away the rest, you can showoff your treasured keepsakes to their best advantage. It will also give you the option, as in a museum environment, to change the display from time to time, according to the season, a special holiday, a specific occasion or just because you want to. Getting into the habit of rearranging your collection from time to time also helps to better integrate your "museum pieces" into your living space.
There are many ways to showoff your collections. A collection of teapots, decorative plates or antique jugs would be best displayed in the kitchen or the dining room on the shelves of a sideboard with a hutch like the Somerton Villa Madrid China Display Cabinet in Dusk Brown Finish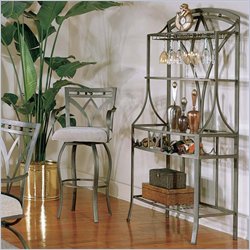 or a baker's rack such as the Steve Silver Madrid Bakers Rack. Whether it's a wood bakers rack or a metal bakers rack, bakers racks with open shelves are the ideal way to display and store collectibles or decorative items in a kitchen, dining room or even a family room.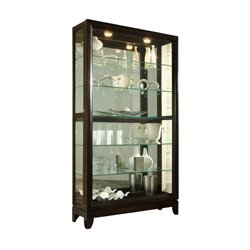 Curio cabinets are cabinets specifically intended to showcase collectibles and other treasured keepsakes. Because of their unique design, a curio cabinet such as the Pulaski Chocolate Cherry 46 Inch Wide Curio Cabinet typically has mirrored back as well as glass sides, so that each piece in the collection can be viewed and appreciated from all angles.
Wall cabinets with glass doors or specially designed wall mounted curio cabinets like the Howard Miller Edmonton Wall Display Curio Cabinet are perfect for putting the spotlight on smaller collections of ornaments that might not require a standard sized curio cabinet but still need to be protected from dust and the environs (including curious little fingers).
Bookcases are another ideal way to make a special place for your treasured keepsakes. The Jesper Collection 16 L-Puzzle Shelf has a versatile and distinctive design. It can be used as a single unit on a tabletop or a sideboard or you can use two or three to customize it to your showoff your collection to its best advantage.
Ornaments, trophies, a collection of dolls, antique jugs and other family treasures are important additions to interior design because they give our homes personality as well as a comfortable, lived-in look. Because no one else has the same collection, it also makes your home totally unique to you.