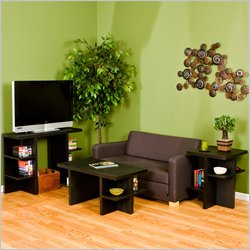 If you're like most of us, especially if you live in a smaller sized home, condo or apartment, you are constantly looking for ways to make the most of what little storage space you have. Particularly at this time of year when we're on the cusp of summer and fall, soon it will be time to put away summer clothes, beach stuff and other miscellaneous items we probably won't need from another year. But where are you going to put it all? And how can turn inadequate storage into storage solutions that will work for you and your living space? Even if it's not possible to tear down a wall or two to make more room, there are still things you can do to get more mileage out of your current storage situation.
Storage Solutions for the Living Room
Take inventory of any units in the room like an entertainment center, end tables, coffee tables or cabinets with open or enclosed shelves. Wherever possible, add baskets, drawer organizers, organizational caddies or pull-out trays.
If you're in the process of or you are about to buy new living room furniture look for pieces that are dual-purpose like a hallway bench with hidden storage or a coffee table with drawers or shelves.
Add extra seating to your living room in the form of a storage ottoman or a coffee table ottoman.
Storage Solutions for the Bedroom
Bedroom benches are typically placed at the foot of the bed, providing somewhere to temporarily put clothes or laundry or as a place to sit when putting on shoes. Choose one like the Somerton Enchantment Bedroom Bench that has drawers and a small cabinet. Other types of benches have a lift-top or removable lid.
To increase your storage options in your bedroom closet, sometimes it's a simple matter of freeing up floor space by eliminating the clutter with a shoe rack or stackable shoe cabinet. Especially if you're sharing a small-sized bedroom, and by default, a less-than-ideal closet, consider configuring the space to both your requirements with some type of closet organizer.
Utilize the space under the bed with some kind of underbed storage. There are several types of under-bed storage, including storage boxes, storages bins, a rolling box or a set of drawers on casters designed specifically for storing items under the bed.