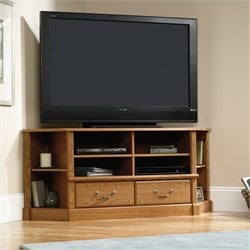 The long lazy days of summer can be a great time to enjoy media at home, particularly if you've got a rainy day on your hands. Is your living room or media room ready for a movie marathon?
A new TV stand might be all you need to get organized and make your space media-friendly. You might be organized to the point where you can keep clutter off the floor for the most part, but having the right media storage can take movie time from frustrating to hassle-free.
If you're not sure if you could benefit from an upgrade, ask yourself a few quick questions.
Is it tough to view your DVD selection in its entirety?
Have you ever stepped on an open DVD case? (Our sympathies for anyone who has done this in bare feet.)
Ventilation is another important factor to consider this summer. Many televisions, DVD players, amplifiers, and video game consoles generate significant amounts of heat when left on for longer periods of time.
If your devices aren't stored in a TV stand with the right air flow, you may risk damage to your equipment in the long run. For climates that experience substantial heat during the summer, ventilation is even more important, especially if you're in a continental or semi-arid temperate climate that doesn't automatically demand air conditioning in every home.
Your choices in TV stands with storage as well as ventilation range from barebones starter models all the way up to opulent floor-to-ceiling entertainment centers. If you've already got a basic TV stand and need an upgrade, chances are you need something in between.
The Orchard Hills corner model from Sauder is a great choice for traditional spaces requiring a space-saving solution. If you're looking for a little style with your storage, you'll love the ambiance of a fireplace in stands like the Pasadena from Classic Flame.