If you've just bought a condo or purchased a loft or moved into a bachelor/studio apartment for the first time, it might have never occurred to you before how are you going to decorate a space where all the "rooms" run one into another. Do you have to stick to one wall color? How do you arrange the living room furniture? Are you going to be stuck with the kitchen in your peripheral vision while you're watching television? Even though you have considerably less space to work with when decorating a bachelor or studio apartment than you do when moving into a condo or a loft, the principles for making an open concept floor plan comfortable and inviting will be the same. Choosing an interior design style like transitional for an open concept home, will give your living space a contemporary synergy while honoring certain traditional elements that add sophistication and a chic sensibility.
The good news is you can choose only one for the whole space or not; it's really a personal preference. You do however, want avoid painting the same wall two different colors even if they are a part of two distinctly different areas, like the dining room and the living room, unless it makes "sense" visually. However, picking an accent wall and choosing to paint it another color, especially a bold one, will give your transitional style living space definition, while letting you introduce more color into your interior design.
It's important to mark out individual areas of an open concept home: having clearing defined areas, each with a specific purpose, prevents the furniture from appearing "lost" or "jumbled." Transitional style living room furniture and dining furniture include traditional decorative and architectural elements as interpreted by contemporary design principles is a great way to decorate a condo, loft or studio apartment, because you can select furniture for the different open areas, that while still transitional in style, possess a slightly different look or feel. Even though everything is out in the open, some other ways to create the sense of separate rooms are:
Use a different area rug for you dining area than the one chosen for the living room
"Divide" up the space with strategically placed open shelf bookcases or decorative folding screens
Hang artwork on the walls that emphasizes what the particular space is being used for (pictures of Parisian cafes or outdoor bistros in the dining area)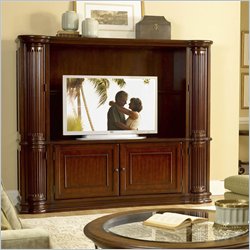 When choosing furniture for an open area living space, select furniture pieces like a coffee table or an entertainment center that includes hidden storage. Dual or multi-purpose furnishings such a hallway bench or an ottoman coffee table will increase your storage options in the long run, giving you more place to tidy things away – something that is ultra important in an open design condo, loft or apartment.