A lavish, opulent and imposing traditional style living room is an attractive and timeless place you and your family will want to spend time. Since a living room should be a place to relax, watch TV or enjoy an evening entertaining friends, it might seem counter-intuitive to use a traditional interior design to decorate this type of living space. But there is some about traditional living room furniture that reflects Old World design principles that are classic and enduring.
Set the Stage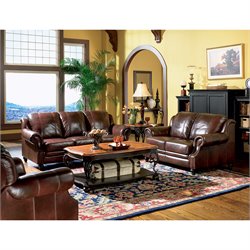 The bolder the color palette of the walls and accessories the more lavish your traditional style living room will feel. Select a wall color or wallpaper pattern that will provide a dramatic backdrop to richly-toned wood accent tables, end tables and sofas. If you prefer softer shades, choose richer hues of classic neutrals such as beige, cream or silver paired with a bold colored accent wall. Another option is to paint the living room a neutral color, but wallpaper one wall as an accent point in the living room.
Traditional Style Living Room Furniture
Traditional style living room furniture should, of course, be made of woods such as walnut, teak, mahogany and palissander. Finishes are typically medium to dark in color and can be highly polished, distressed or anywhere in between. When selecting traditional style living room furniture with a lavish look and feel, focus on traditional sub styles such as Queen Anne, Sheraton, Chippendale or French Provencal. If you don't want to stick to just one traditional sub style, simply pick furniture pieces like end tables, a coffee table or a console table that is typically opulent and elaborately decorated with detailed carvings, motifs and intricate scrollwork. For a truly luxurious look, choose a leather sofa with overstuffed rolled arms and tufted upholstery.
Lavish Traditional Style Accessorizing
To create a lavish traditional style atmosphere, when accessorizing you will want to add enough "layers" for visual effect or texture while still keeping the living room sophisticated yet "uncluttered."
Window treatments that possess the formal look created by heavy panel curtains paired with sheers and a valance would not be out of place in a traditional style living room. For that extra luxurious feel choose materials like brocades, velvets or silks.
Another automatic place to pile on the luxury is the sofa (or any other kind of seating including accent chairs or club chairs) by selecting accent pillows in different materials. To really mix it up, throw some cushions made from nubby materials or with a "raised" pattern.
Select accessories like candlesticks, vases and decorative bowls with gold trim and/or detailing.
 Come back next Friday for Lavish Traditional Style part 3 when I will be discussing how to create a luxuriously indulgent bedroom environment.