Across much of the US and Canada, it's been a mild, if not downright chilly summer. We've had rainy days and cool weather. While this might put a damper on some beach plans during summer vacation, we like to see the design glass half full. So if you're spending more summer days indoors this year, why not add a few cozy updates to your living room, just in time for fall?
Take a look at these pieces from Catnapper to spark your imagination. We've blogged about these opulent plush sofas and chairs before, but they're well worth revisiting for anyone seeking soft, luxurious furnishings.
Start with a recliner or rocker and add more pieces to fit your space and style. From one decadent chair to a long lavish L-shaped sofa set, you can add a little or a lot of Catnapper comfort to your favorite living space.
Catnapper Softie Dual Reclining Loveseat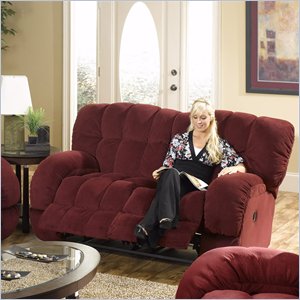 Catnapper Softie Sofa Set
Catnapper Softie 3 Piece Reclining Sectional