Cottage style is an ideal choice for a living room because it is laid-back, inviting and comfortable. It creates the feeling of welcome; of time passing without the watchful eye of the clock; and of being "lived in." Cottage style, in many ways, shares similar elements with casual country. Both styles are eclectic in nature, relaxed and unpretentious and display a folksy warmth that is very inviting. Where these two styles differ, cottage style themes and motifs tend to be centered around water; reflecting lifestyles lived near a lake or by an ocean. Today, we'll begin a new a series called "Country Living Cottage Style" and talk about how to create that cottage style look for your living room.
A cottage style palette reflects nature, especially water and sky. Pure whites and creams are a good place to start for colors for windows, doors and baseboards, and even the walls themselves. But whether the color in the cottage style living room is added to the walls directly or introduced through the furniture and when accessorizing, it should also incorporate soft, pastoral shades such as pale forest greens, tranquil shades of blue and the yellows found in summer roadside flowers.
Cottage style definitely has that country air, but lines a simpler, colors are brighter and while wood finishes are lighter, like casual country, they tend to be distressed. Cottage style living room furniture typically has decorative detail like turned legs, a milk-washed finish or louvered or beadboard panels. Fabrics and textiles for furniture and window treatments commonly make creative use of plaids, nubby wools, ginghams and small checks or floral patterns.
The sofa should have a wide, comfortable seating area, with an overstuffed backrest and rolled arms. It should be upholstered in homey fabrics that have an "arts and crafts" feel, like a quilted finish, a nubby cotton or florals. Sofas that include organic elements like wicker accents or rattan frames will also work well in a cottage style living room. When selecting accent chairs, an armchair or a recliner, keep in mind that they don't have to match. Here is where the eclectic aspect of cottage style will manifest itself.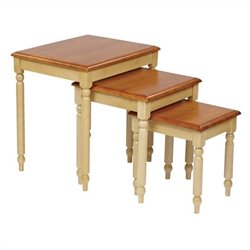 Tables should have a casual, yet charming appeal. Look for end tables, a coffee table, a console table or a set of nesting tables that have a distressed or washed finish; are painted white or cream with tabletops in a lighter wood finish like pine, cherry or oak. Accent chests and accent tables can have turned legs, stenciling or hand-painted designs.
When accessorizing, choose casual table lamps with checked, striped or plaid shades. Shades with in a gingham or floral print are also good choices. Lamp bases will often include organic elements like wicker or terracotta. Framed pictures should reflect the region, such as photos of the lake or prints of local attractions. Don't forget those classic cottage accessory standbys like hurricane lamps, pillar candles on stone or ceramic candleholders and a hand-made quilt or hand-knit throw as added protection against a chilly night.
Next week, in the second part of the series, we'll take a look at the cottage style bedroom.