In terms of a décor design project, a loft apartment is a blank page – it is a large, open space, often with cement or brick walls, cement floors, ductwork, bare pipes and exposed beams made of wood or steel. A loft space is like no other type of home: don't treat it like it is. The appeal of a loft is its edgy modernity. Get creative; be inventive; take "expressing yourself" to a whole new level. In the second part of this series, I will be discussing contemporary loft living room furniture ideas and decorating tips for the living room.
Pick a Spot
In a house or a condo, the living room is typically the main room for relaxing, personal downtime and entertaining; it's no different in a loft apartment. Because a loft design floor plan is essentially open concept, you will have to choose a location for your living area. Pick a spot that makes sense and reflects your lifestyle. If you like to, for example, have people over to watch game, for cocktails or just hang out, it would be good to have your living room closer to the kitchen rather than at the opposite end of the loft.
Take advantage of any architectural features in the loft that would enhance your living area such as a skylight, the view from a specific window or support beams and/or pillars that can define the living room from the other areas in the apartment. If there is an accent or freestanding wall, you want to reserve that for your entertainment center. Don't forget to identify all of the other areas you will require. In addition to needing a bedroom, and living and dining areas, would you like a pair of contemporary club chairs by your favorite window or a home office?
Create the Illusion of Walls
The main challenge that you will have when decorating a loft apartment, is that you will have only four walls. The option of putting the large pieces of furniture against the walls of each zone like the bed in the sleeping area or the sofa and the entertainment center in the living area will be limited. You will have to give some careful consideration to the actual placement of your living room furniture, taking power sources into account. To create the illusion of walls and to define the separate zones of your living room area from the rest of the apartment use living room furniture pieces like an entertainment center or modular bookshelf. When considering using a certain piece of furniture as a screen, boundary or "wall" take into account whether or not the back is finished (can be seen) or unfinished (can't) – some manufacturers leave the backs of case goods unfinished if they are not meant to be viewed from all angles.
Loft Living Room Furniture
Because of its edgy, industrial origins, loft living room furniture should reflect its environs. For a minimalist feel select modern style furniture with geometric lines and angular or asymmetrical profiles. These living room furniture pieces would have absolutely no decorative detail and are typically made from space-age materials.
If modern is too "stark" for you, contemporary style shares some of the same design principles as modern, but lines are less angular, profiles less uniform.
Another way to define the living room from the rest of the loft apartment is to choose a sectional as your sofa and position it so that it functions as a partition.
Since you are living in a loft space and storage will be at a premium, pick specific living room furniture pieces like a coffee table or end tables that include plenty of hidden storage.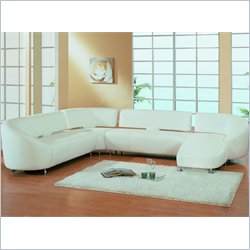 Come back next Friday for Contemporary Loft Furniture Ideas series pt 3 when I will be discussing how to design a contemporary dining area for your open concept apartment.