If your kitchen isn't quite guest-ready for the holidays, but you don't have the budget to fund a major remodeling project, there are ways to give it a much-needed makeover without breaking your piggy bank. There are a number of fairly simple things you can do to breathe new life into your kitchen without have to accommodate a big reno or budget for one.
Grab a Paint Brush
It is disruptive, and yes it does require some elbow grease, but painting the room is one of the cheapest ways to "remodel" the kitchen. Especially if you choose a totally different color, it can instantly (well, almost) brighten the room and lighten the mood.
If you don't want to do the whole room, pick one wall to paint as an accent wall. A bright or bold color in a kitchen that has a neutral palette will make the room "pop."
Maybe you don't need to paint the kitchen, but how about the cupboards? Especially if they are throw-backs from some decade we don't care to mention, a fresh coat of paint can transform your cabinetry from thumbs down to thumbs up.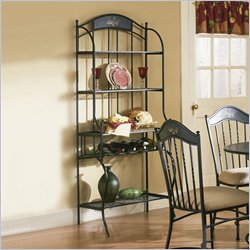 Rethink Storage
What kitchen ever has enough storage? Add a kitchen island with drawers for more work space. Not only can kitchen accent furniture like a bakers rack, china hutch or kitchen cart can add those special finishing touches to the room that many of us think of as the heart of the home, it can also help you get organized. Furniture accent pieces that include several different types of storage features increase the efficiency of your kitchen as well as the aesthetic value of the room.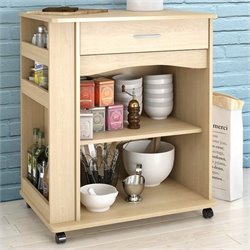 New Hardware and/or Fixtures
Whether you end up painting the cabinets or not, simply by replacing the hardware, you can make your old cabinets look like new. Consider selecting themed hardware (forks, vegetables, fruits, etc.) for a really unique touch.
If your taps are more the ten years old, now is a good time to replace them with a more contemporary faucet. And because faucets are available in a range of prices, you'll be able to keep your budget in mind.
Were you ever really happy with the overhead light? Particularly if your kitchen doesn't get a lot of natural light by changing the lighting fixture, you can make the space appear brighter.