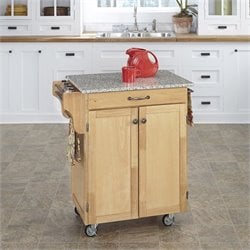 Have you always wanted a kitchen island? The appeal of an open, sharable food preparation space is a great addition to any kitchen, making islands popular for good reason.
So, no need for more convincing, you'd like an island. But you keep moving from one house or apartment to the next. Or you're still renting and don't want to invest in a kitchen you don't own. Or the renovation is too expensive and hard to justify when it's for lifestyle or aesthetics rather than structurally necessary work.
Consider a stylish kitchen cart instead. Ideal for renters, urban dwellers, or anyone on a budget, kitchen carts come with butcher blocks, storage shelves, cabinets, and more. Capped with granite, stainless steel, laminate, or 100% solid unfinished wood, you'll find the selection to fit your taste and lifestyle.
Should you consider a kitchen cart for a larger kitchen? Absolutely. Even if you already have ample counter space, many avid cooks and bakers find that small appliances start to creep onto every surface. A portable cart could be the solution you need to finally have the clear food prep space you need and want.