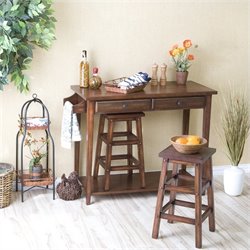 The farmhouse kitchen was literally the heart of the home. It was designed as a place not only to cook a lot of food for a lot of people, both immediate family members and farmhands, it was also the place where the meals were eaten and everyone would gather to catch up on news and socialize. It typically displayed exposed ceiling beams, wood floors, large stone, tile or porcelain sinks and hanging utensil racks. With a rustic charm that still resonates today, the farmhouse kitchen is the ideal kitchen interior design for a country, mission or even contemporary style home since it evokes a simpler time of hearty, home cooked meals, freshly baked bread and warm fruit pies, especially apple.
Farmhouse Kitchen Walls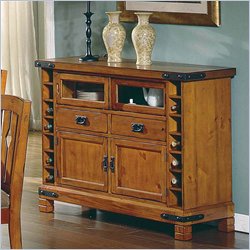 The color palette should be as warm and inviting as possible. Deeps reds, grass greens, sunshine and lemon yellows, creams and mochas are popular colors for farmhouse kitchen walls, window treatments and area rugs. Other commonly used colors are the ones that closely resemble the shades and tones of spices.
To recreate the walls found in farmhouses of yesterday, walls are often made to look weathered and aged by specific painting techniques like ragging, sponging and other faux finishing methods. Stenciling is also used to decorate walls; common patterns used include farm animals such as roosters and cows; trailing vines; and fruits and vegetables.
Farmhouse Kitchen Floors
Pine wood, unfinished with a scrubbed or bleached appearance, is the premium choice for the kitchen floor in a farmhouse. Stone is also a common flooring material. A great alternative to a stone floor is simulated stone tiling; it's easier to keep clean and not so difficult to maintain. Since the farmhouse kitchen is also a place where meals are eaten, round braided rugs or woven rugs with a country theme are used to add warmth and charm.
Farmhouse Kitchen Windows
Traditionally, farmhouse kitchen windows would have curtains in plaids, ginghams or florals. Window treatments are often paired with wide, draping tie-backs and swagged or ruffled valances. Tying back the curtain to let as much light in as possible was especially important in a farmhouse kitchen.
Farmhouse Kitchen Furniture
Pine furniture reigns supreme in the farmhouse kitchen. Tables are solid and square or rectangular in shape. Chairs have rounded backs. Wood finishes are whitewashed or lighter in color, often distressed to create an aged appearance. Often the dining area resembled a picnic table because the table had benches instead of side chairs.
Cupboard doors and door and drawer knobs are typically made of pine. Kitchen hardware and decorative accents made of brass, bronze or copper are also popular. Backsplashes are usually made of ceramic tile in beige, cream, taupe or other earth-toned neutrals.
Farmhouse Kitchen Charm (accessorizing)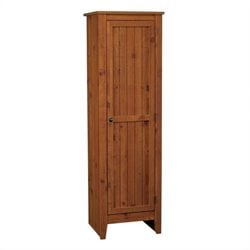 Hang an oversized utensil rack or pot rack over the main work table or food prep area.
To uphold the integrity or spirit of the farmhouse kitchen, modern conveniences, such as a stove hood, can be "hidden" by disguising them behind cabinetry of white washed exposed grains or wainscoting panels.
Oversized accent furniture pieces such as a sideboard with a hutch are ideal for displaying a collection of jugs, teapots or other country-themed collectibles.
Choose table linens in berry colors or playful plaids. Placemats, runners and chair seat pads with a rooster or hen theme are ideal.