A loft apartment's wide-open spaces, high ceilings, large and/or numerous windows, exposed pipes, ducts or beams are very appealing. But these are the very features that can present the loft dweller major decorating challenges when planning a dining room in an open concept living space. Whereas you will most likely want clearly defined areas for sleeping and relaxing while watching television, it makes "sense" for the dining area to flow into the other living spaces in your loft.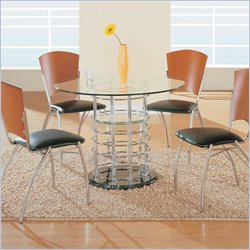 Open Concept Dining
A dining room, whether it's formal or informal, generally has an intimate feel about it because the space has walls; the intimacy factor can be further enhanced by the wall color that is chosen for the dining room. In a loft apartment you will not have those options since your dining set and any other dining furniture you select for the dining area will be out in the open. Here are a few ways to create a cozy atmosphere for a loft dining "room":
Put an area rug on the floor
If there is no ambient lighting directly above the dining table, add a pendant or a chandelier that is on a dimmer switch
Feature a picture or print, especially if your dining furniture will be opposite a wide expanse of wall, that projects an intimate or cozy ambiance
Contemporary Loft Dining Furniture
The most important aspect about a loft dining area is to choose a dining set that makes a statement. It will be the focal point of the loft space as a whole rather than just the immediate dining area.
You don't necessarily have to create walls, but if you would like to project a definitive end of the dining zone and the beginning of the next functional space, position a sideboard, buffet or credenza in such a way that it acts as a boundary between the two.
There are no hard and fast rules; there is no reason why you can't have more than one eating area. While the main dining area can stand in for the formal dining room of a house or condominium, you could place counter stools around a kitchen island or add a gathering table at the opposite end of the loft as a place to have breakfast or a casual meal.
Thanks for joining me for this 3-part Contemporary Loft Furniture Ideas series. Come back next week when I will begin a new 3-part discussion on how to design a games room for your family.