As convertible cribs grow in popularity, you've probably noticed a few popping up here on Furniture and Design Ideas. You have an idea of what's involved in setting up a crib to start, but have you been wondering about how you'll convert the crib down the road? To get into more detail about what to expect when making future conversions, I've asked the knowledgeable staff over at Lusso Baby to guest blog.
Convertible cribs are a growing trend for savvy parents who want all their furniture purchases to last for many years. When you need to purchase a baby crib, why not choose the model that converts to a toddler bed, a daybed, and then to a full twin-size bed?
At Lusso Baby, we love helping busy moms and dads save time and money, without losing the style they crave. So we carry a number of trendy convertible cribs that provide the opportunity to shop once for up to four beds. Parents can save the time and trouble associated with several rounds of furniture shopping. Choosing a convertible crib is also an eco-friendly choice that means a lower carbon footprint and less overall waste in packaging and product.
We carry convertible cribs from Aldi Juvenile, Ap Industries, BabyLetto, Da Vinci, Lea, Natart Juvenile, Nurseryworks, Status Furniture, Stokke, Stork Craft, Tulip, and Westwood Design. While most of these cribs are solid wood, design influences range from contemporary to classic, covering European-style or antique-inspired themes.
Many of these convertible cribs can be purchased with coordinating wood dressers, changing tables, and armoires. Parents can choose an entire bedroom set for the nursery that will grow with baby, lasting until it's time for college.
To walk through the conversion of a crib, we've chosen the DaVinci Kalani crib, popular for form, function, and affordability. The Kalani is available in cherry, honey oak, ebony, espresso, and white.
4-in-1 Crib Stages
The first conversion is from crib to toddler bed. This transition is fairly straightforward and requires that you remove the lower front side of your crib and replace it with a smaller partial rail. To convert to the daybed, simply remove the toddler rail.
For the last conversion, which is the most involved, you'll be removing the sides of the crib leaving only the tallest back side of the frame. The back of the crib will become the headboard of your child's twin bed. You'll then attach the twin bed rails and add the original lower front side of the crib for the footboard. Remember that you will also need a new twin size mattress at this point.
DaVinci Kalani 4-in-1 Convertible Crib Nursery Set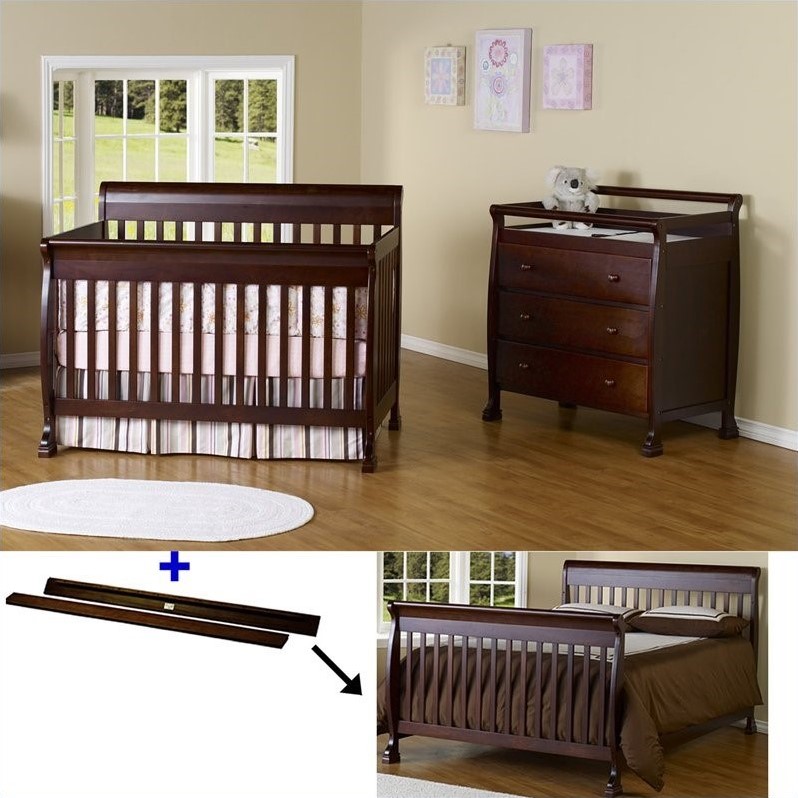 Using a convertible crib, alone or as part of a bedroom crib set, requires storage of these additional parts when not in use. You might be tempted to purchase the additional conversion rails as you need them, but we recommend purchasing the toddler and twin rails along with your crib. If the manufacturer decides to stop making your crib, you'll already have the parts you need.
Purchase a baby crib set including a changing table and conversion rails, like the one shown above, and you'll have the foundations of a bedroom that will last your child well into the teen years.
~ Lusso Baby Staff