You might think that just because you have a small dining area that you will have to compromise on style. But it doesn't have to be that way if you have a plan. And the place to start is with your dining room furniture. Make sure to include one or two pieces that are multifunctional. When decorating small spaces, the trick is to select dining room furniture that is smaller in scale, which will help you maximize all available floor space.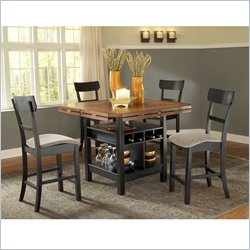 Making the Dining Room Look Larger
Because the one thing a small dining room needs is the one thing it can't have, there are ways to making it look larger:
Arrange your dining set as far from the side walls as possible; this will prevent your dining furniture from appearing cramped in the space
Try to keep the area into your dining room clutter and obstacle free; by blending the room's "boundary" line, it gives the impression that the room is bigger than it really is
Add a mirror to the décor; preferably place it across from the doorway or a window – this will make the room look larger because the mirror "moves" light around the space
Let as much light into the room as possible; keep window treatments streamlined and choose lighter fabrics
Select a dining set that includes seating that fits perfectly underneath the table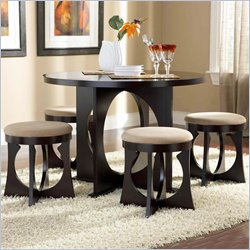 Choosing the "Right" Dining Table
Ideally, if you have enough room to work with, the dining table should "echo" the shape of the room. For example, when you're decorating a dining room that is long and narrow, select a rectangular dining table; where the walls are all the same width, pick a square table. However, these two can take up a lot of room. For a space-challenged room, choose a round pedestal table. Because the table doesn't have legs so to speak, you will be able to easily fit one or two additional chairs when hosting a holiday dinner.
Choosing the "Right" Dining Chairs
When buying dining furniture for a smaller sized room, give some thought to the dining chairs you choose to accompany your dining table. Best case scenario – you should go armless. While dining chairs with arms are indeed a little more comfortable, they do tend to take up more space than side chairs without arms. Another thing to keep in mind, is to pick a chair design that has straight legs as opposed to tapered or sabre. This will free up a little more floor space between the wall and your dining table.