Design Question
The front entry to my home has four doorways off of it. The large dark wooden front door (no window on door, just three above), one door to the master bedroom (room is painted Beautitone Heavenly Sky blue with white ceiling and doors and windows), the door to the upstairs (which the stairwell is painted Beautitone Cumberland Fog), and the doorway to the living room (which is painted Tea White Alluring)….which room affects the colour choice of the entry or is there a colour that compliments all of these?
Design Answer
Thanks for writing in! The room which affects the colour choice of the entryway would be the one that you can see first and/or most. Aside from the front door, which of course will be closed most of the time, take into account which of the other doors will be open on a regular basis.
If the doorway to the living room is open, one option would be to paint the whole hallway Tea White Alluring. Another option is to choose a shade that would complement the three colours that you have chosen for your living space. To pick a colour that complements all of the others, since blue is a cool colour, choose a cool neutral with a blue hue. Let me know how it turns out.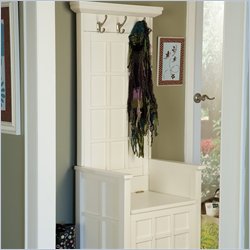 Come back next week when I will answer another one of your design questions. Don't forget to keep sending them to. I don't have a one-question rule; you can ask as many design question as you want; just remember to send one per email.