Buffets and sideboards make serving meals and entertaining easier and more enjoyable. While they both essentially serve the same purpose – storing meal-related items such as china, utensils and table linens – there are some subtle differences between the two. Typically, a sideboard resembles a table and includes a center drawer especially designed for either linens or silverware and an open or enclosed area for storing or displaying larger items. Buffets first emerged in the Middle Ages, but today they largely resemble a long, waist-high cabinet with one or a number of doors and/or drawers.
A focal point is generally the place or a specific item that the eye is naturally drawn to when first entering a room. It gives a particular room definition, creating visual interest by adding texture and "weight" to the space. But consider this: when planning a dining room, augmenting your existing dining furniture or improving the area by making it more functional, take a buffet of sideboard that is more similar to a piece of modern art than it is to dining furniture and make it the focal point of the room.
For that Contemporary Look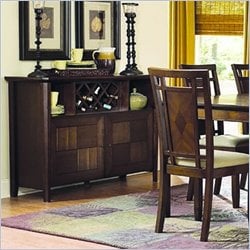 If your dining room has a contemporary décor, look for a buffet or sideboard that will match or complement the furniture currently in the dining room. If there are other furniture pieces with hardware, you might want to choose a buffet that has a similar kind of drawer pull or door handle. The veneer insets of the doors of the Coaster Buffet Server definitely qualify as artwork. It is also a great example of how the buffet's design adds texture to the room.
 For that Transitional Look
Transitional is a happy combination of traditional and contemporary styles. Choose a buffet or sideboard that has restrained decoration – not too much and not too little. The hand-painted door and drawers fronts make of the transitional Ultimate Accents 58″ Sideboard an enchanting work of art. 
For that Modern Look
The Modloft Greenwich Sideboard is ultra-modern. Its lines are clean and angular; there are no decorative elements and stainless legs and hardware paired with grained woods are all hallmarks of modern style. The use of veneers and the "floating" appearance of the body of this sideboard gives it its modern art appeal.