Creating a modern abode can be a tricky task but we have the answers for your all of your design dilemmas. Designing a modern space requires restraint which can be be trickier than it appears at first glance. Contemporary design may seem simple but actually creating a stylish modern space requires some serious planning. Our handy set of design tips should help to keep you on track.
---

Dimplex Contemporary Covertable Corner 33″ Electric Fireplace in White
Pick The Right Color Scheme
If you are starting out looking at paint swatches, stop and take a step back. Paint is one of the last design decisions you should make. It's much more important to bring together your large elements first.
If you are starting from scratch, this might seem daunting but it's really easier than it first appears. Take your color cues from one of your large purchases, like a piece of artwork or rug. The sofa is another great jumping off point. Try choosing your sofa first, then pick out a few throw pillows in an accent color. Choosing two colors at this point should be easy but don't be afraid to play with schemes that include three or four colors.
---
Choosing Modern Furniture
Now that you have your palette together, it's time to start furniture shopping.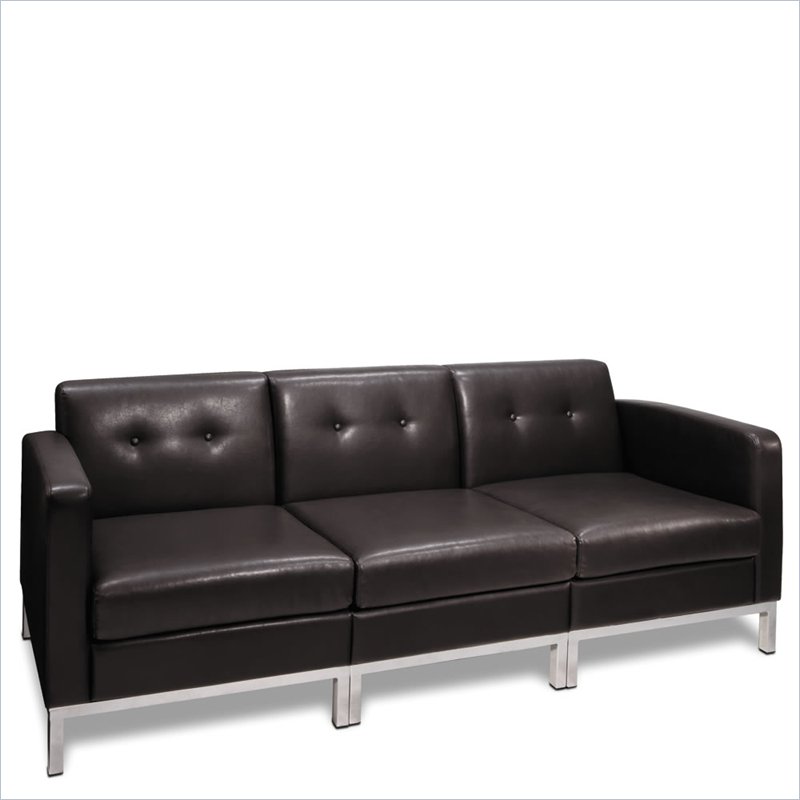 Avenue Six Wall Street 3-Piece Sectional Sofa
Sofa
The sofa is generally the largest piece of furniture in your living room which automatically makes it a focal point. Choosing the right one will go a long way to creating a sleek and contemporary look. While there are a million modern sofa options available, it's good to keep a few design factors in mind when you are choosing yours. Try to choose a design that is sleek and clean. A version with straight arms or no arms is perfect for small spaces.
Another factor is the upholstery type. Leather is a beautiful and practical modern choice but it can be pricey. Faux leather (or vinyl) is another great option. Fabrics are also widely available with contemporary flair. Choose a heavy fabric option in a solid color for durability. It's always wise to go for a dark color if you live with kids or small children.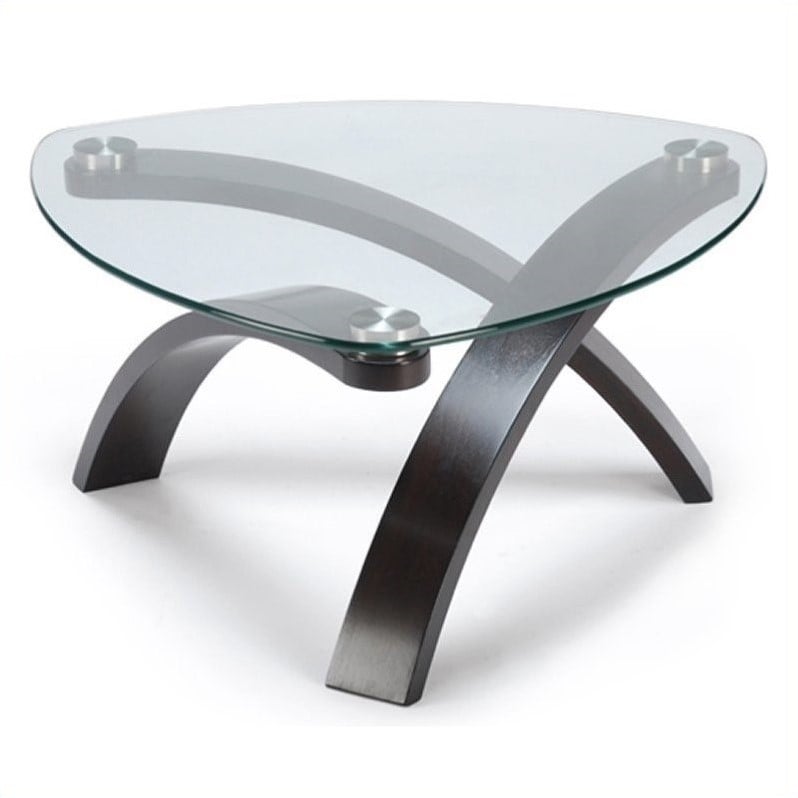 Magnussen Allure Pie Shaped Cocktail Table in Hazelnut Finish
Coffee Table
Thinks low and lean. A sleek shape will match the design of your new sofa. However, now is your chance to mix things up by incorporating a mix of materials or going for a matching look. Try a metal or glass coffee table to mix with your wood chairs or go for an all espresso set for that high-end hotel look.
Pastel Furniture Fouquet Club Chair in Top Grain White Leather
Chairs
A classic living room design uses a sofa and one or two arm chairs. Chairs are a more versatile choice than the sofa. Their smaller size makes them an idea choice for a bold accent color. If you have the space, a large chair is more comfortable but two smaller chairs will do the job nicely in a small space.
Altra Furniture Round Chrome End Table in Black
Occasional Tables
While a coffee table is a necessity for any space, occasional tables are a much more personal choice. The size of your space will dictate how many you need. A matching set of side tables are ideal for either side of your sofa. Or if you have the space to float your sofa out, a sofa table is a great way to finish things off.

BDI Ola 8137 Contemporary TV Cabinet in Satin White
Entertainment Center
Most living rooms do double duty as a home entertainment zone. A modern TV stand or entertainment center is the perfect finishing touch for your modern living room. For a truly unique look, a floating TV stand is a wonderful choice. However, if you have a large entertainment system a wall unit might be a better choice. In either situation, there are numerous options on the market that will both fit your contemporary design style and your pocketbook.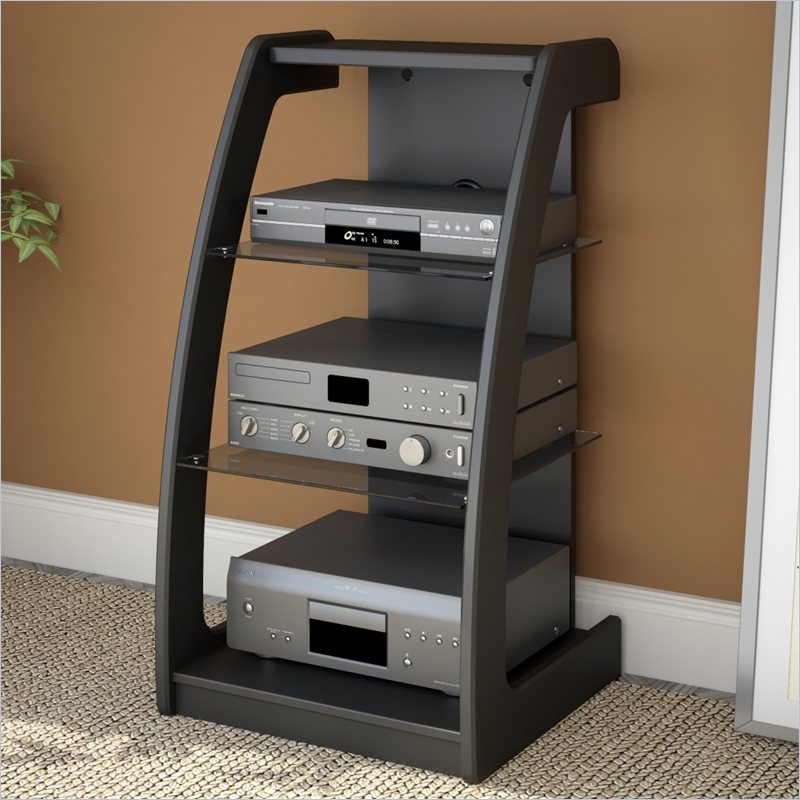 Sonax Milan Black Three Shelf Component Stand
---
Paint
After you have your major pieces chosen out, it's finally safe to go paint shopping. No matter what color scheme you are leaning towards, it's always a great idea to test the color in your space.
Once you have narrowed down your choices, purchase a few mini-pots of paint to test out. Be sure to paint a few test patches in different corners and check them during the day and at night. Sometimes a color can shift dramatically but only you can decide if you like the results or not.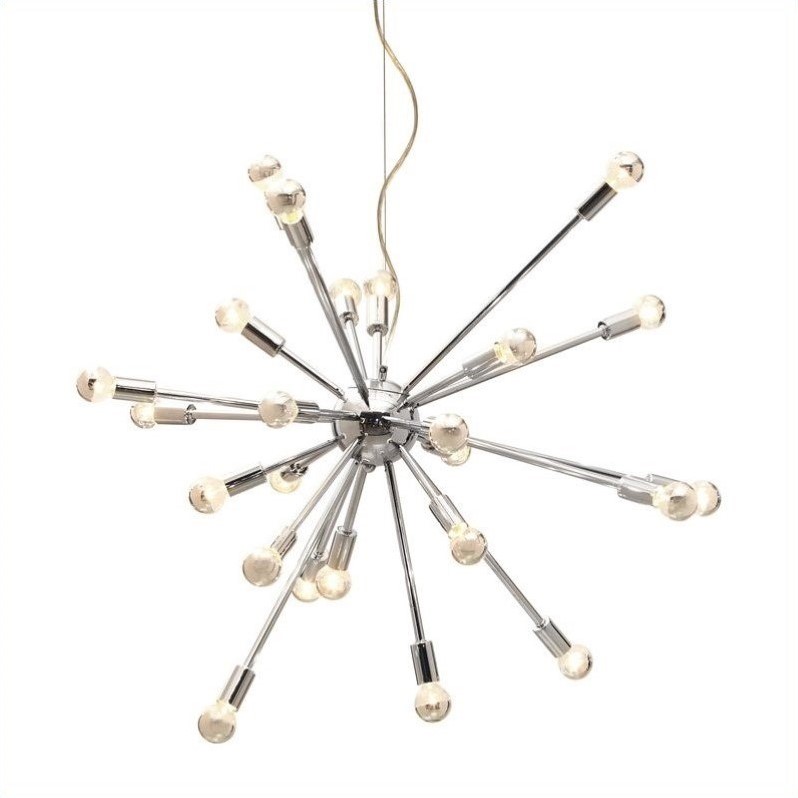 Zuo Physics Ceiling Lamp in Chrome
---
Accessories
Accessories are the very last step to in creating your modern space. But they offer the perfect way to show off your personality. As always, some careful planning will yield the best results.
Keep things simple and straightforward. Try to resist the urge to overcrowd your bookshelves and table tops with books and tchotkes. Pay equal attention to the negative space. A few vases on a shelf are much better than many small items. Create order by stacking like sized books on their sides and cull anything and everything that is old and unnecessary. But even a contemporary space will do well to include updated versions of all the classic accessories: a clock, vase, painting, a leafy plant and a rug. Every extra element will bring something special to your space so be sure to choose wisely.