Most of us have heard of wine racks but what exactly is wine furniture? That is a good question and one that fortunately can be answered fairly easily. Wine furniture refers to any type of furniture such as a dining table, cabinet or home bar that is designed to store and/or display wine in addition to its original purpose. With more and more people opting to stay home and entertain, wine furniture has become a popular and economical way to entertain in style while making the rooms of your home more practical and functional.
Since wine furniture comes in a wide variety of types, styles and materials, you are sure to find one that will complement your décor. While there are no set rules as to what can be used where, especially if it is the first time you are purchasing any type of wine furniture for your living space, it is good to have some idea what is available, how to integrate it seamlessly into a particular room's décor and where in your home it will be most useful.
General Tips for Buying Wine Furniture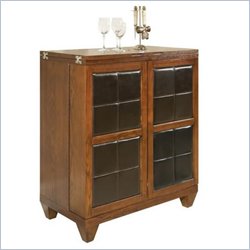 Identify the purpose and where you would like to put a spirits cabinet or even a home bar. Do you want a server or buffet for your dining room that will be a convenient place for you to store a choice selection of dinner wines? Or would you prefer an accent cabinet that is designed to hold spirits (upright storage) instead of wine (horizontal storage)?
You don't want your wine cabinet or home bar to look out of place. To make it blend with the existing décor, select wine furniture that matches or complements the furniture already in the room.
Once you know where it will go, measure the space. You will want it to fit proportionately in the room and not overpower or be overpowered (appear too large or too small).
Especially if you plan on purchasing a wine cabinet, wine tower or home bar, don't forget to take into account the height of the room's ceiling.
If you are purchasing the wine furniture for your home that has doors, make sure you will be able to open and close them easily without any obstructions.
A typical bottle of wine weighs approximately three pounds. Check the manufacturer's product information for the item's weight capacity to ensure that it will safely hold the number of bottles it's been designed for. It should be well-constructed, durable and stable.
Wine furniture such as a wine buffet, home bar or wine cart are available with a variety of features. Consider which specific features will be most useful to you before making a final purchase. A wine console or wine cabinet on casters allow you to move it easily from room to room. Storage options like a stemware rack or utility drawers increases they functionality of your unit.
Wine Furniture Typically used in the Living Room / Family Room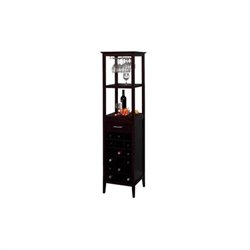 Wine towers such as the Winsome 18 Bottle Wine Tower are ideal for living rooms or family rooms because it allows you to keep a small selection of wines within reach, making entertaining simpler.
A wine cabinet like the Tresanti Rosemont Wine Bar in Empire Cherry is ideal for social environments like the living room or family room, because it is designed to hold both wine and spirits.
The home bar is generally one of the larger types of wine furniture, although both portable and compact versions are available. By adding some barstools to a home bar, you can create a "pub" atmosphere in your own home. When setting up your home bar, throw in an Irish pub or sports theme to create an instant party atmosphere.
Wine Furniture Typically used in the Dining Room
The American Drew Beacon Ridge Wine Credenza with Accent Mirror Wine credenza is essentially a wine cabinet, intended to be used like a sideboard or server and is designed specifically to make displaying and serving wine a celebration.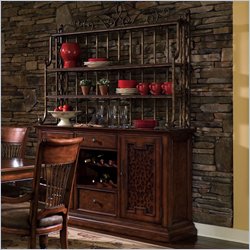 A wine buffet like the Pulaski Barolo Buffet with Hutch allows you to store tableware and glassware in addition to wine. A buffet makes a dining room more functional, neat and organized by providing a place for dishes, cutlery and a showcase for those special vintages you will be serving with dinner.
Dining tables with wine storage and counter-height dining table such as the Canterbury Home Furnishing Gramercy Park Counter Table are ideal for smaller living spaces. Multipurpose wine furniture can maximize available dining room floor space in a condominium, town house or apartment.
Versatile Wine Furniture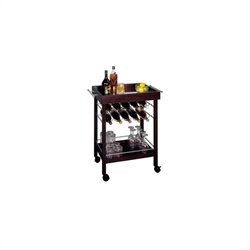 Wine carts take entertaining to the next level. Because they are on wheels, they are not restricted to one room. And since they are designed to be portable, wine carts are typically more compact than other kinds of wine furniture.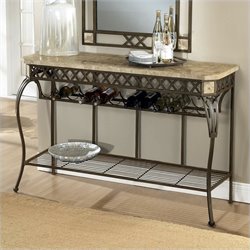 A wine console table is exceptionally versatile since it can be added to virtually any room in your home. If you don't have space in the room itself, put a wine console in a hallway or niche near the dining room or kitchen or living room.
If you're searching for a stylish wine storage solution for your home, look past the standard wine rack. Wine furniture comes in all shapes and sizes, so you can go as big or as compact as you need to. Wine furniture has the added benefit of being multipurpose and multifunctional, which is a plus when you're entertaining friends and family.