A soft luxurious bedroom is a real treat to curl up in on a cool, damp evening. This room puts together the bare basics to keep from over-crowding the room, making even an average-sized bedroom feel large.
Hillsdale Trieste Fabric Upholstered Bed in Pewter
Hillsdale's Trieste charcoal gray bed is where the quest for the vintage room began. The fabric is supple and when combined with the button tufts are reminiscent of old-school vintage Hollywood. It is a soft, luxurious look with an old-time traditional twist.
American Drew Camden Black TV/Wardrobe Armoire
The antique rub finish of the American Drew Camden armoire is a lovely complement to the bed. The cool thing about this is that if you choose to put a TV into the bedroom, you can hide it inside the armoire. If you prefer not to, then you can insert a couple shelves for added clothing storage—which would be preferable for those with a smaller master bedroom.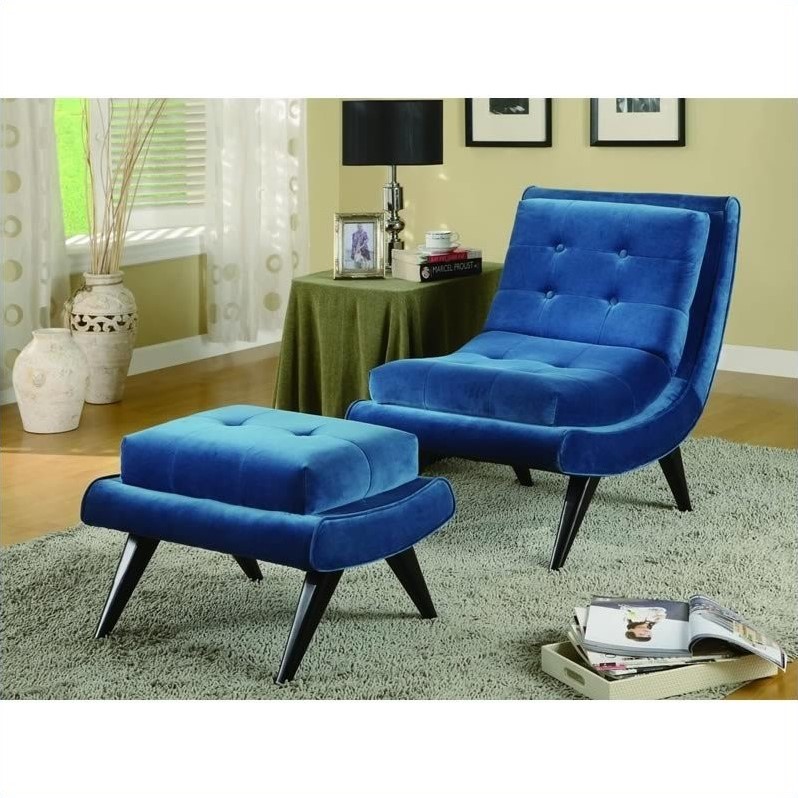 Armen Living 5th Avenue Armless Swayback Lounge Chair in Cerulean Blue
Armen Living's designers have created the perfect swayback lounge chair in a beautiful cerulean blue. This splash of color within the bedroom is very trendy and provides the perfect place to curl up with a good book. If you prefer a little less splash, then go with their grey version. It will bring a monochromatic look to your room that can be enhanced with large vintage movie posters, or even some avant garde paintings.
Safavieh Ocean Stingray 18-inch Linen and Cotton Decorative Pillows in Multi and Cream (Set of 2)
Adding a set of throw pillows to either the bed or a pair of lounge chairs will really bring all the colors in your room together. Safavieh's stingray pillows create a great starting point for adding color to your walls, or through small accent pieces.
For more inspiration, look to the colors of a peacock feather—the blue Armen Living uses is very similar to the blue in this feather. If you do decide to go with a peacock color set, the walls can be easily dolled up with the dark green, or keep it light and airy with an off-white that has some gray undertones. If your room is large, feel free to go bold. Set the pair of lounge chairs up against a solid black or deep brown wall with white trim.
If you prefer to take the oceanfront as your guide, stick to the oceanic color palette for accent pieces, and soft sandy brown walls. A crisp white look will open up your room, making it feel large, and it is also much more easily changed than a deeper color such as chocolate or black.