I had been living in my apartment for about two and a half years before I was finally motivated to do something about my balcony. No, it wasn't the building manager insisting I stop using the space for extra storage (it's technically against the rules to store bikes and other items that should be put downstairs in your assigned locker). It was a chance remark made by a friend ("Gee, you'd have a really nice view if you didn't have all that junk on your balcony") that inspired me to clean up my act and make it a space I could enjoy for three seasons out of the year. And my friend was right – the esthetic design of the living room (or any room that looks out onto it) is greatly compromised by a messy space.
The balcony is an extension of your apartment or condominium; a place where you can have breakfast on a weekend morning, sit and watch the sunset or entertain friends. Decorating a balcony follows pretty much the same process as for redoing your living, bedroom or bathroom. It doesn't matter if you don't have much room to work with, you will want to make maximum use of the space without making it feel cramped and look cluttered.
Cleaning Up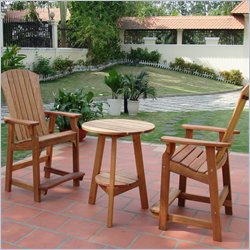 You have to start with a clean slate. Sort through everything currently on the balcony. Throw out anything that can't be reused, repaired or recycled. Donate any items that are still useable but ones you don't really want to keep. Once the balcony has been cleared, give it a good cleaning. Wipe down any outdoor chairs, tables, planters, etc. Don't forget the railings.
Pick a Theme
Just as in decorating a room inside your home, picking a theme or style will give the space a harmonious and finished look. It doesn't have to mean scattering sports memorabilia all around the balcony. If you choose a nautical theme, for example, you can select planters or plant stands with a shell or starfish motif and a wicker patio set with navy and white striped upholstered chairs. A "theme" can be as simple as focusing on your favorite plant or creating an outdoor herb garden. It can also be seasonal, changing to reflect a special holiday like Christmas.
Select the Right Outdoor Furniture
Get out your tape measure! If you're buying new patio furniture for your balcony, you'll want to know exactly how much space you have to work with. Particularly if you're going to include a table in your balcony décor plan, you don't want one that will end up not fitting. In addition to a bistro set or an outdoor pub table, consider what else you would to include, such as an outdoor fountain, tiered plant stands or decorative pots or one or two oversized urns to create a conversation piece. When you're ready to put the furniture in place, start with the biggest pieces first. Once they've been arranged to your liking, you can begin to accessorize. Layering the space with the other items you have chosen will transform the balcony into a truly comfortable and functional "room".