Design Question
I have really bad wall paper in the kitchen of the house I live in. Should I change it to a new wallpaper or should I paint? It is an old kitchen. I would like to update it in expensively. It has a border I really really don't like. The main wallpaper is a red check. It is ok but the "chicken and egg theme" border is bad! Is wall paper still "in"?
Design Answer
One of the cheapest ways in terms of renovating is to repaint or repaper the walls. Yes, wallpaper is still definitely "in. While some design professionals insist that wallpaper never fell out of favor in the first place, it has been making a comeback in interior design for several reasons:
there are an endless variety of patterns and colors to choose from; while there are an endless number of paint colors, they don't come in different designs
because of the different designs and patterns, wallpaper adds "texture" to the room, in this case, your kitchen; adding texture to a room's décor makes the space visually interesting
wallpaper has entered the 21st century, so to speak – since it is no longer thick, requires paste to install and the patterns have become more stylish and sophisticated, wallpaper or wall covering, as it is also known as, has become more and more appealing to homeowners
If you are not happy with the wallpaper, you should change it. Paint or wallpaper can be inexpensive if you look for bargains. Paint/hardware stores often sell "mistakes" (paint that was improperly mixed, but still looks fine; it's just not the color on the paint chip) at a fraction of the cost of a regular can of paint. You can sometimes get good deals on wallpaper "ends" or patterns that have been discontinued.
Why not do both – paint and wallpaper? Paint three walls, and wallpaper an accent wall. You mentioned that your kitchen is older; you'll have to do a little investigating; if the current wallpaper is the older kind it's going to take some effort to get the paper off the walls, and depending on what you find, it might take some work to prime the walls for whatever you want to do with them – painting or wallpapering.
While wallpaper is making a bit of a comeback, the same cannot be said for borders. Manufacturers make them available because people like what is familiar, but for the most part, they are keeping a low profile in spaces designed by decorating specialists. Especially if you don't like it, I suggest that you dispose of the border and plan not to replace it.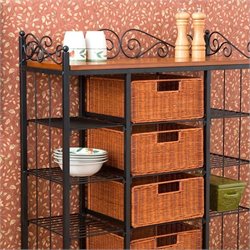 Thanks for writing in. Let me know how it turns out. I hope all of you have a safe and happy New Year's Eve. Don't forget to join me in the New Year for more design questions and answers.