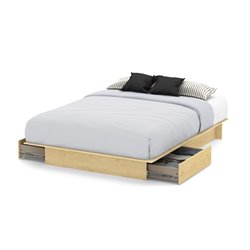 A modern design for a bedroom will create the perfect environment for a calming and tranquil sanctuary that you can call your own. The three most distinguishable sub styles are minimalist, ultra modern and sophisticated modern. Modern style doesn't have to be all the things modern has been accused of; cold, bare or stark. The ultimate appeal of this particular style is its uncluttered feel, and the atmosphere of serenity it initiates. This is exactly the mood you want for a master bedroom.
There's no denying that color plays a major role in setting the overall atmosphere for a master bedroom. Modern palettes should be cool, neutral or earth toned. If you would like to add color to the room, choose a cool, neutral or earth tone color that is rich (saturated) or deep. Another way to bring color into the room is to select an accent color that will complement the main color you have chosen. But for a more classic modern styled master bedroom, go with cool colors like blue, green or violet and of course, neutral beiges, whites and tans. 
Modern Master Bedroom #1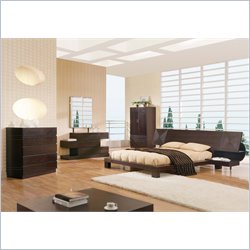 This room is definitely sophisticated modern. The walls, bedding and area carpet are neutral colors that work together for a soothing effect. In true modern form, the furniture pieces of the Global Furniture USA Soho Modern Wood Platform Bed 5 Piece Bedroom Set have no decorative detailing. Rather, visual interest comes from veneer panels of the headboard and the dresser's interesting use of geometric shape.
Modern Master Bedroom #2
The room has been painted a deep shade of a cool color. Since the color has been added to the walls, neutrals have been chosen for the bedding, lamp and area rug. The picture frame with a black and white photo matches the frame of the Fashion Bed Group Chatham Contemporary Metal Bed while the hanging cylindrical lamp makes both the bed and the corner of the room focal points. This minimalist modern master bedroom is still restful while being interesting.
Modern Master Bedroom #3
The Modloft Ludlow Platform Bed in White Leather with Wenge Frame is ideal for an ultra modern master bedroom. White and (almost) black are contrast colors and paired as they are here, create an uncluttered and "breathable" space. Using contrast brings each one of the individual elements of the room together, while emphasizing the clean lines of the bedroom furniture pieces.