Really, we don't mind. These are just a small sample of some seriously beautiful vanity sets to make any lady of the house feel like a queen, regardless of decorating personality and space.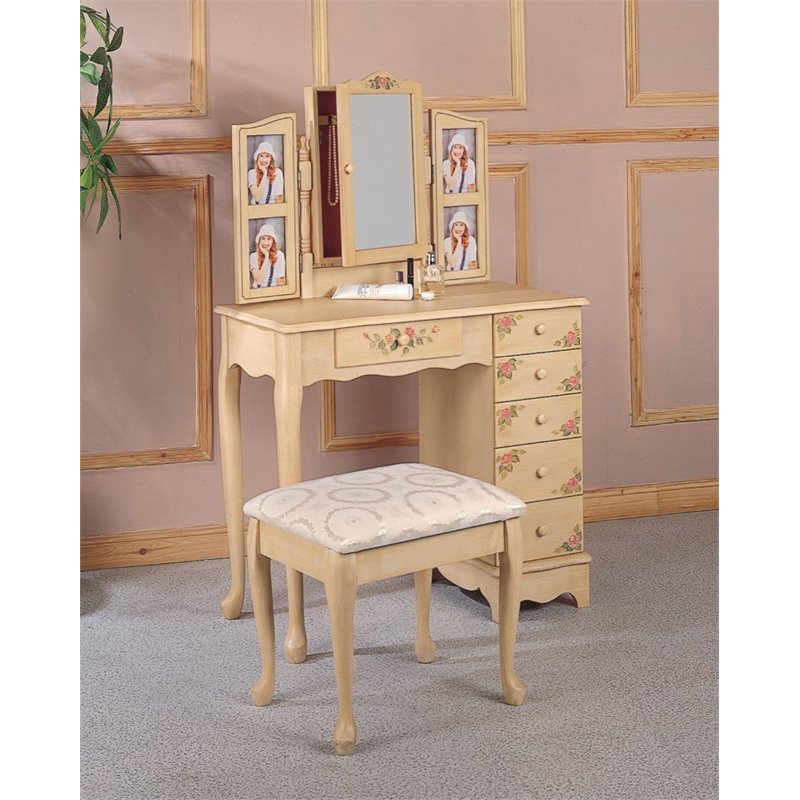 Coaster Hand Painted Wood Makeup Vanity Table Set with Mirror in Ivory
Coaster's hand-painted wood vanity is a throw-back to your great-grandma's Depression era furniture where hand-detailed wood work was common. The ivory tone of this vanity matched with a modern fabric will blend beautifully with any traditional decor. It would look equally as fabulous in the cottage bedroom mixed with weathered seaside furniture.
Poundex Bobkona Jaden Vanity Set with Stool in Black
Poundex has hit the nail on the head with this simple yet elegant approach to their vanity design. It's small enough for the condo bedroom, yet will add a dose of boldness to a more spacious bedroom as well.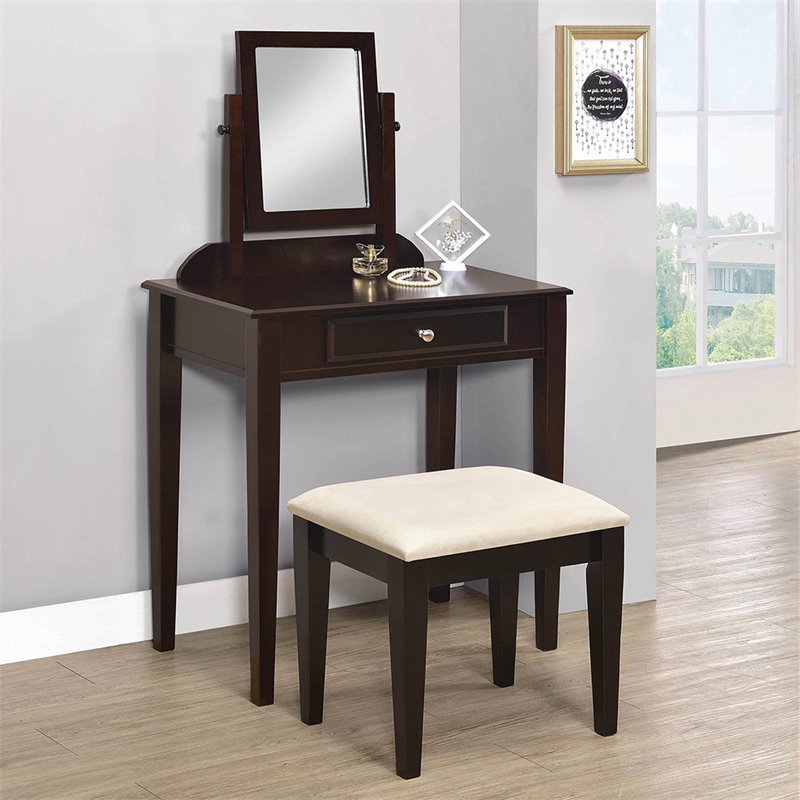 Coaster Small Cappuccino Vanity Set
Coaster has designed this gorgeous little number for the more modern mom. The contemporary appeal of the simple, no-frills look will also make a great addition to any tomboy's apartment bedroom.
Rossetto Nightfly Dressing Table in Black
If you are feeling a little more metro-Euro, this vanity by Rossetto is going to make a stark statement in your room. It has the simplicity of clean-cut lines and invokes a feeling of perfect zen. This vanity will be the perfect addition to the chaotic home of multiple little ones chasing each other up and down the stairs every waking moment.
Lea Elite Rhapsody Wood Pedestal Vanity/Desk in Dark Cherry
Lea's Elite Rhapsody vanity gives a little bit of that retro feel to your room. This is perfect for the room with that throw-back fifties style. You could even go back as far as the early-to-mid thirties with a piece of furniture like this accenting your room.