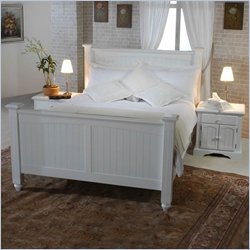 Interior design for a bedroom should be soothing, comforting and inviting, which makes cottage style perfect for the room that is the place where you relax and restore yourself after a busy day. A cottage style bedroom has a lived-in look that shares many similarities with both shabby chic and casual country. But cottage style has that little extra something else that reflects the timeless charm of a seaside inn or the nostalgic memory of a long-ago family vacation by a mountain lake.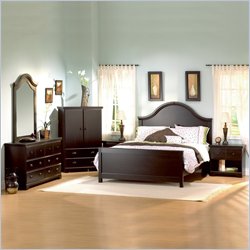 Start with the walls. Colors typically found in a cottage style bedroom include the yellows of lemons, buttercups and sandy beaches; the blues of a summer sky, a seascape and twilight witnessed from winding country road; and the greens of summer grass, forests and country apples. Soft pastels in milk paint are a good choice. Using painting techniques such as glazing or stenciling are also some other ways to give the room a cottage style atmosphere with a little touch of country thrown into the mix.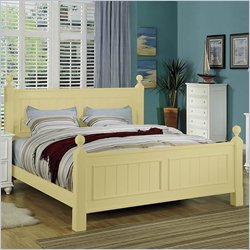 The cottage style palette can also be brought into the room through furniture pieces like the Riverside Furniture Splash of Color California King Panel Bed. Cottage style furniture is commonly made of wood. Beds and other types of bedroom furniture like dressers or a chest of drawers might have beadboarding, decorative molding or scalloped aprons. Headboards and footboards commonly have round finials. Finishes are often distressed for an antiqued or lived-in appearance. While wood is the construction material of choice in a cottage style bedroom, a tufted headboard in off-white, cream or a soft pastel such as rose or mint would not be out of place.
When choosing fabrics for dressing the bed, window treatments and/or an area rug and accessorizing, cottage style does possess a certain country air. But expanding on traditional country choices, cottage style fabrics are a happy mix of fabrics: ginghams with silk, wool with velvet, plaids with patterned or striped linens. While they can also include classic floral motifs, cottage style bedding colors tend to be brighter and more intense.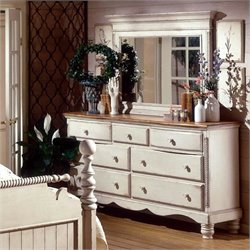 The time to really solidify the cottage style look is when accessorizing by adding those details that matter. Use ceramic bowls to hold jewelry; spare change or small miscellaneous items. Select lamp shades with a floral pattern in pastel shades complete with ruffles or bows. Include candles or hurricane lamps for that real cottage style touch. Mirrors should be decorative with molding or metalwork accents. Cottage or country artifacts like enamelware jugs or porcelain wash basins are perfect cottage style accessories.
Visit again next week for the final part of this mini series where we'll take a look at the cottage style dining room. Also if you feel so inclined, send me some interior design style suggestions for upcoming min series: I'd love to hear what styles you would like to explore further.